Back to the list
Skittish Investors Wipe Out All 2021 Gains, Sending Bitcoin Crashing to a New Low & Ether Back at $1,700
bitcoinexchangeguide.com
22 June 2021 16:03, UTC
Reading time: ~4 m
---
The cryptocurrency market is experiencing another brutal day. The price of Bitcoin went down as low as $28,830 on Coinbase, as of writing, lower than the May 19 low of $30k on the exchange, a level last seen in early January. On other cryptocurrency exchanges, prices went even lower. Today's sell-off has put in a new low for 2021 and wiped all the gains made by bitcoin this year. "There's just a lot of fear, and when there's fear, people sell risky assets. I do think that Bitcoin's still perceived as a risk-on asset," Meltem Demirors of CoinShares, said in an interview on Bloomberg. "Generally, investors are skittish."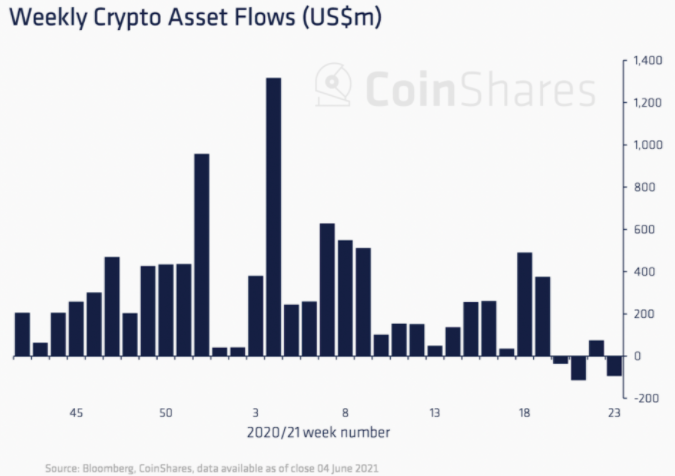 Ether's price went down to $1,700 on Coinbase, below the May low of $1,725, last seen in March this year only. The total cryptocurrency market cap has stumbled to $1.2 trillion, last seen in early February. After yesterday's $1 billion liquidations, another 238,232 traders were liquidated for almost $1 billion and growing in the past 24 hours. These numbers, however, are not correct because Binance API only publishes 1 liquidation per second. According to Antoni Trenchev, co-founder of crypto lender Nexo in London, breaking $30k means "we should revisit $25,000 and even $20,000 before the next leg up." Pankaj Balani, chief executive officer of digital asset derivatives exchange Delta Exchange, is of a similar opinion who told Bloomberg that a conclusive break below $30,000 would mean a "massive hit" to sentiment and possibly "heavy selling activity" across the crypto market. However, he expects bitcoin to rebound and challenge $40,000 in the coming weeks. https://twitter.com/RaoulGMI/status/1407100487690752000 "Negative trading conditions in the market are coming from an overly long position built up in the strong first-quarter runup that has not cleared itself out yet," said Adam Reynolds, CEO at Saxo Capital Markets. With this latest sell-off, Bitcoin's correlation with the S&P 500 had broken and now fallen to zero after reaching an all-time high when coronavirus struck. Stocks are progressing towards their all-time highs after recovering sharply from their last Friday lows following the Federal Reserve's shift in policy. JPMorgan strategists said in a note,
"Last week's FOMC meeting was a hawkish surprise but does not change our market outlook. The reflation trade experienced a sharp, technically driven pullback, but we expect the trade to resume and see this move as an opportunity to add exposure to cyclical equities and commodities."
https://twitter.com/MatiGreenspan/status/1407302990315282433 For Bitcoin, it's more than just the Fed and rising dollar at play here; the industry-specific factors, especially China cracking down on the cryptocurrency market, are impacting the prices. As we reported, China's latest measures came from the nation's central bank, which summoned officials from banks and payment institutions like AliPay to reiterate a ban on crypto services. Although this is nothing different from the past and has already been in effect, the fact that it comes straight from the top makes it hit harder. Seth Melamed of Tokyo crypto exchange Liquid said,
"Some of the miners in China may be more willing to sell their bitcoin now versus when they are able to run their mining operations, because they have to raise cash."
https://twitter.com/AltcoinPsycho/status/1407069745564684288 At the Qatar Economic Forum on Tuesday, founder and chief executive officer of Galaxy Digital, Michael Novogratz, argued for Bitcoin as a dependable store of value. He said,
"If you're going to be long gold, Bitcoin is a better version because it's got the same macro tailwinds, but it is also very early in the adoption curve."
https://twitter.com/mcuban/status/1407044302908362759 Billionaire investor Mark Cuban also argued along the same lines as he said while not a "hedge," bitcoin is similar to gold because both the assets are driven "exclusively by supply and demand." It's just that "BTC does a better job with both," while gold "is useless, pretty much across the board, but particularly as a hedge," he added. 
---
Source
---
Back to the list