Back to the list
Michael Burry seeks to short the cryptocurrency market
cryptodaily.co.uk
14 October 2021 14:59, UTC
Reading time: ~3 m
---
The Big Short investor Michael Burry, has constantly let it be known on Twitter that he thinks the cryptocurrency is in a bubble, and that it will crash at some point. Burry believes that crypto market speculation is unprecedented throughout history. Is he right?
The investor who made his name betting against the stock market back in 2008 is back at it again. This time it is the cryptocurrency market, which, according to Burry, is in a bubble that is due for a massive correction.
His latest tweet (since deleted) asked for clarity on how best to short cryptocurrencies.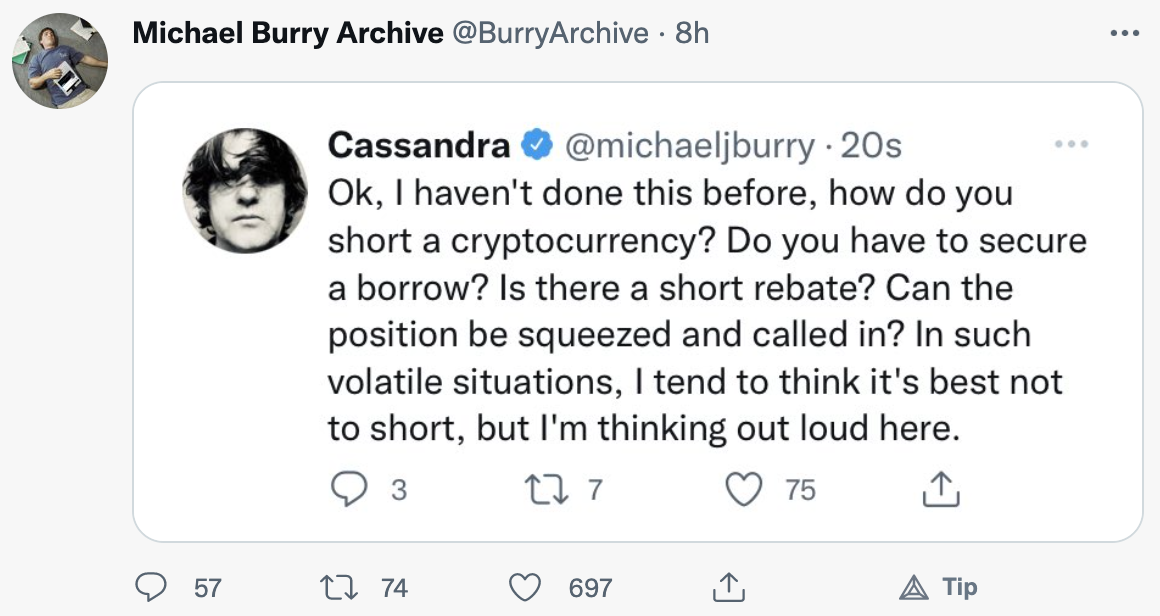 Burry has a history of deleting most of his tweets, citing that too many followers of meme coins and "crypto zealots" comment on his tweets for their own ends. However, the "Michael Burry Archive" Twitter account faithfully saves all the tweets that are deleted.
The big investor repeatedly pours scorn on cryptocurrencies, comparing them to the mid-2000 housing boom and the dot-com bubble. His views on them include the following:
"But it's breathtaking, this religion of real and fake people," he continued. "The speculation probably tops anything in history."
He also warns that cryptocurrencies are:
"driven by speculative fervor to insane heights from which the fall will be dramatic and painful."
Burry reserves special scorn for the likes of the meme coins such as Shiba Inu and Dogecoin, saying that they are "pointless".
Opinion
Michael Burry is a brilliant and knowledgeable investor. Back in the last great market crash of 2008. He called it right, and he had the "cojones" to back up his judgement, even when 99% of the herd said he was wrong.
His stand against cryptocurrencies this time round is also brave, although that being said, he will have a hugely bigger percentage of investors on his side than back in 2008, when he practically stood alone.
Burry understands markets, but does he understand the cryptocurrency market? This market is just so different to what has gone before that there is no yard stick throughout history that can be used to judge it.
Burry is right to scoff at the likes of Shiba Inu and its like. Most people would agree that these types of coins are for those with very little basic knowledge of crypto, and who are just here for the hype train.
However, he does overlook what certain cryptocurrencies are doing, how some are totally disrupting payments and side-lining greedy and inefficient banks, how others are disrupting file storage, gaming, and commerce, to name but a few innovations.
The problem is that Burry even laughs at Bitcoin, while perhaps blissfully unaware that this is an asset completely outside of the existing monetary system that he knows is broken.
Burry isn't the first knowledgeable person in economics to be totally brain-washed by the system, the banks, and all the other obsolete infrastructure that is the financial system.
Nevertheless, there is always a way to know if you are right or wrong in this case. It will occupy a lot of your time, but it is time extremely well spent if you can finally understand how and why cryptocurrencies are the only way out of this mess.
Do your due diligence and look into what you are pouring scorn upon. Actually do the spade work and find out exactly what these cryptocurrencies do, and why they are needed. Speak to experts in the field – and finally, if you still believe you are right – have at it. However, if you know that you are wrong, have the "cojones" to admit it.
Disclaimer: This article is provided for informational purposes only. It is not offered or intended to be used as legal, tax, investment, financial, or other advice.
---
Source
---
Back to the list
Similar news