Back to the list
ICO Projects Liquidating Eth at Increasing Rate: Diar Research
www.cryptoglobe.com
22 December 2018 00:40, UTC
Reading time: ~2 m
---
The liquidation of the initial coin offering (ICO) Ethereum bonanza of 2017 and early 2018 has reached its highest rate yet, according to the cryptoasset research analytics firm Diar. The collapse in cryptoasset prices since February of 2018 has hit many firms and projects involved in the industry, contributing to the liquidations.
Ethereum was the perfectly suited cryptoasset to act as a vehicle for token sales. Its "smart contract" capability allows anyone to create a digital asset on its platform, in whatever quantity and with whatever characteristics and mechanics are desired.
According to data taken from the recent NKB Group report on token sales, $9.97 billion was raised for token sales between December of 2017 and June of 2018, with a large portion of that raised via Ethereum. Dozens of cryptoasset startup projects thus became huge shareholders of Ethereum's ether tokens.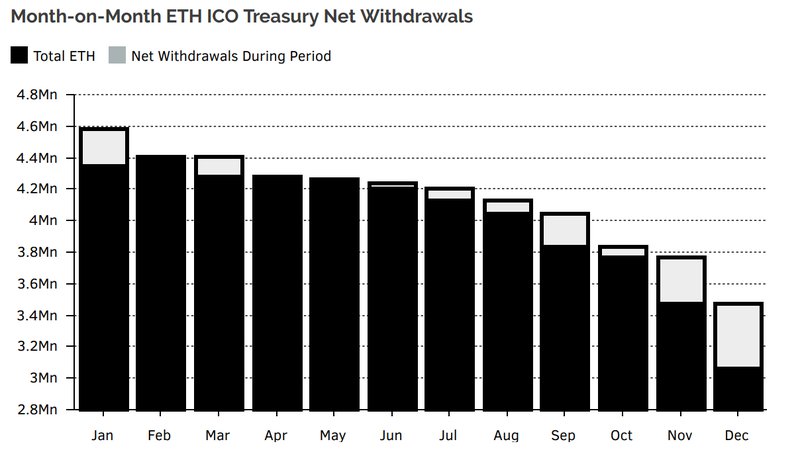 (source: Diar.co)
Diar find that the projects they have been tracking have sold their ether tokens at an increasing rate beginning in the summer. Between February and June, the amount of ether held by these projects dropped only from roughly 4.4 million to 4.2 million; from June to now, however, the amount of ether held has fallen from 4.2 to about 3.5 million.
115 at time of writing.
DigixDAO (DGD) is now the top holder of ether tokens among the projects in question. DigixDAO purports to be a gold-backed stablecoin, with each DGD token representing one gram worth of gold bullion. Diar claim that the Aragon (ANT) project has sunk a large portion its ether tokens into DAI - an algorithmically-backed Ethereum stablecoin pegged to the US dollar - presumably in an effort to take refuge from the collapsing prices hounding the market of late.
Languishing Projects, Increased Professionalization
There have been many notable examples of the 2018 bear market biting, with some projects closing their doors (virtual or otherwise). Perhaps the leading developer group of Ethereum Classic (ETC), ETCDEV, was forced to shut down recently citing lack of funds. And the preeminent Ethereum development company itself, Consensys, recently fired 13% of its staff, in addition to restructuring its management strategy.
But although at least two recent reports on token offerings have concluded a dramatic fall in funds raised through the - perhaps now defunct - ICO method, they also conclude that overall funding from venture capital firms is up and rising - reflecting an increasing professionalization of the industry.
---
Source
---
Back to the list