Ethereum (ETH) Price Set New Record High of $3,450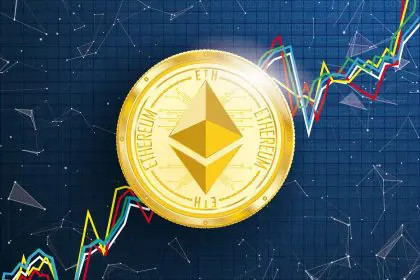 www.coinspeaker.com
04 May 2021 05:11, UTC
Reading time: ~3 m
---
The spike in Ethereum price rejuvenated the cryptocurrency bulls after the entire market consolidated for around two weeks.
After adding over 16% on Monday and closing the day trading at $3,431, Ethereum (ETH) price continued to push higher and did set a new record of slightly above $3,450 according to Binance-backed CoinMarketCap. Meanwhile, the asset was trading around $3,373.45, up approximately 9.04% in respect to yesterday's close.
As a result of the increased volatility, Ethereum (ETH) saw its market capitalization spike to almost $400 billion. Notably, its daily average traded volume stood at approximately $72.7 billion according to metrics provided by CoinGecko.
As the second-largest digital asset by market capitalization, Ethereum has gotten a warm reception by institutional investors, particularly due to its huge DeFi dominance. Incidentally, Ethereum continued to eat away Bitcoin market dominance, whereby the latter had a market dominance of around 44.6% against 16.7% for ETH. The average ETH gas is approximately 39 gwei.
The spike in Ethereum market price rejuvenated the cryptocurrency bulls after the entire market consolidated for around two weeks. However, according to Dan Held, a popular cryptocurrency researcher, the cryptocurrency market is in a super-cycle and more upward trend in the coming months.
"Money printers go Brrrr…Bitcoin was planted during the 2008 financial crisis as an antidote to bad central banking policy, but it has grown during a macro bull run (largely no recessions or depressions from 2008 – 2020)," Held noted.
He further added that "With Bitcoin's current 4-year microcycles coinciding with the longer macro ~10-year cycles, that puts Bitcoin in a potential Supercycle. This is similar to Ray Dalio's observation of short and long-term debt cycles but on an accelerated timeline."
Ethereum (ETH) Underlying Fundamental Aspects
More retail traders and institutional investors have joined the current bull market in comparison to the 2017/2018 bull market. Beyond the speculative aspect of the digital assets industry, the utility aspects have accumulated over the past few years. Thereby creating an intrinsic value for most digital assets.
Ethereum ecosystem is considered a leader in the smart contract sector for most decentralized financial platforms. A DeFi platform like Uniswap DEX is built on the Ethereum ecosystem and handles most of the crypto transactions per day.
"Thousands of developers are building applications that recreate traditional financial products in decentralized ways on top of Ethereum, and as more and more users pour in to interact with these apps, they require ETH (ether) to conduct any transaction," said Sergey Nazarov, co-founder of smart contract company Chainlink.
"Second, there seems to be growing institutional interest in the public Ethereum blockchain, as stakeholders play around with ways to leverage the public network."
---
Source
---