Back to the list
Ethereum Price Analysis: strong resistance at $4,921
www.cryptopolitan.com
23 November 2021 08:20, UTC
Reading time: ~2 m
---
A steady increase in value
Strongest resistance at $4,921
Strongest support at $4,075
The Ethereum Price analysis revealed that after a flash-crash on 22 November 2021, the market stabilizes and continues to increase steadily; that said, the market's volatility has also increased, so the price change is inevitable; it's just a matter of which way it goes. It may escalate to a significantly high degree, or maybe it will plunge entirely.
Ethereum Price analysis chart 4-hour: volatility increasing steadily
The observations made based on The Ethereum Price analysis chart are that after a slight decline in the market's volatility, the volatility has once again increased to a small degree, indicating that the asset prices will soon be exposed to variable change. The moving average curve falls above the ETH/USD price, so the trend observed in the chart is bullish. Based on these observations, we can deduce that the runner-up price will soon increase, maybe to a significantly higher value, although only time will tell.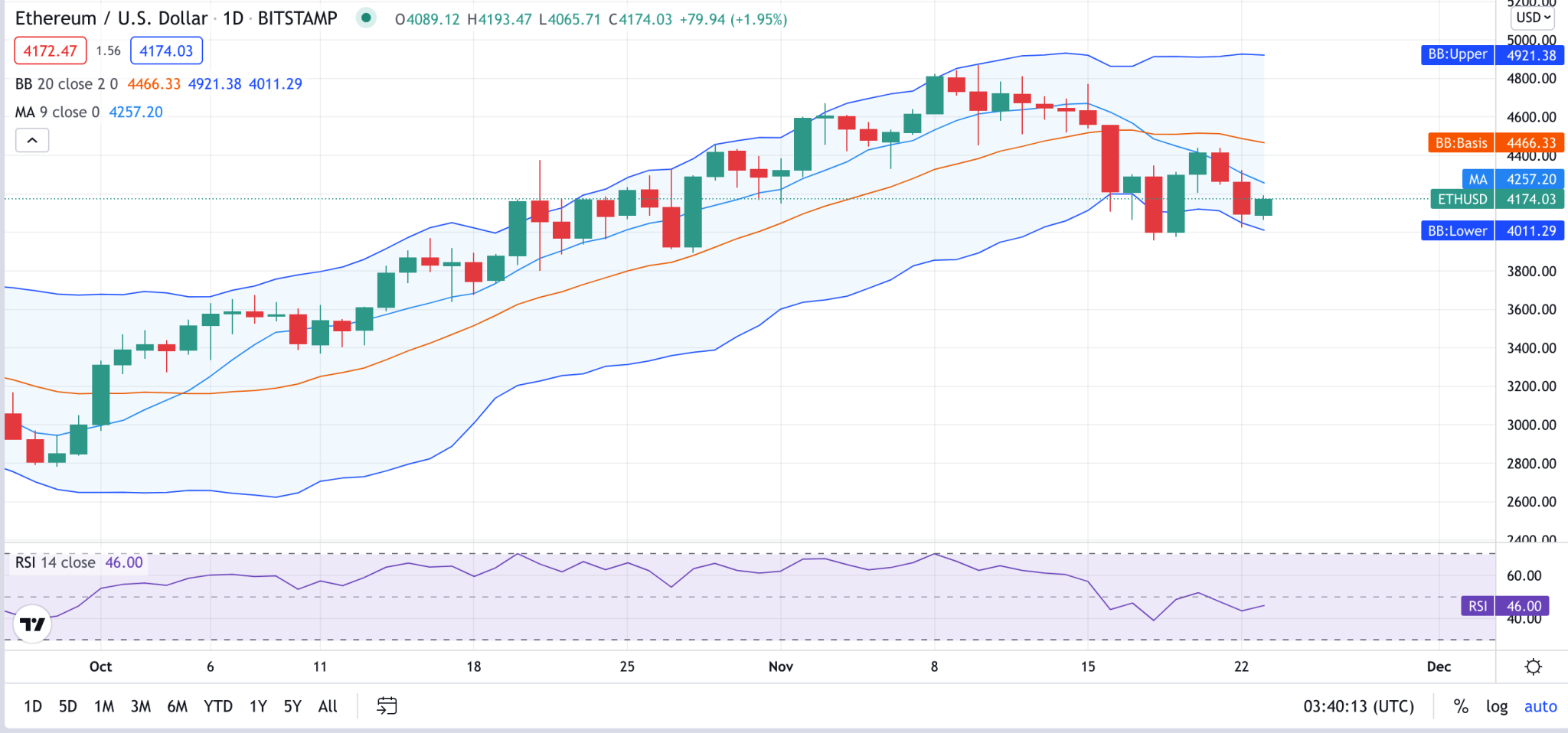 The upper limit of the Bollinger's band rests at $4,921 being the resistance, and the lower limit of the Bollinger's band rests at $4,011, being the support. The Ethereum Price analysis chart shows that the Relative Strength Index (RSI) is at 46, meaning the assets of the runner-ups are in the middle ground; neither are they undervalued nor are they oversold. Seeing as the trend observed is bullish, we might soon see an escalation in the value of Ethereum.
Ethereum Price Analysis: conclusion
Concluding the Ethereum Price Analysis, we have come to know how stable the runner-ups of the cryptocurrency enterprise are; the value of their assets is significantly less prone to significant variable change. Trade of this currency is very beneficial for the buyers as well as sellers. The most substantial resistance rests at $4,921. The strongest support lies at $4,075; we can see that the gap between them is not so large; hence, the Ethereum market is a lot less volatile than other cryptocurrency competitors.
Disclaimer. The information provided is not trading advice. Cryptopolitan.com holds no liability for any investments made based on the information provided on this page. We strongly recommend independent research and/or consultation with a qualified professional before making any investment decisions. 
---
Source
---
Back to the list