Back to the list
Crypto Analyst Capo opines that Ethereum's price could jump 430% by 2022
www.thecoinrepublic.com
20 July 2021 15:47, UTC
Reading time: ~4 m
---
Ethereum will surge ahead of BTC's market cap
The analyst feels if a fifth wave is in the offing, Ethereum could probably outperform Bitcoin
ETH price range has been confined in a narrow band near $1,819
Ethereum price movement in the last 24 hours increases uncertainty
A famous crypto trader who goes by the name of Capo opines that Ethereum's price could jump 430% by 2022. The crypto trader said that he is betting on Ethereum (ETH) over Bitcoin (BTC) if the crypto market enters a new bullish period. Capo also believes that ETH will surge ahead of BTC's market cap and become the top-ranked crypto asset in valuation.
Ethereum could probably outperform Bitcoin
Capo feels that if a fifth wave is in the offing, Ethereum could probably outperform Bitcoin, and so also flippening will be likely. Capo said that he would bet his wealth on Eth as compared to BTC.

The famous crypto trader said that the market would soon enter a bullish phase before the end of the cycle. Capo believes that Ether will surge above $10,000 next year from its current price of $1,885. The rise will be 430%, and Capo believes the cycle top will breach $10,000.
Capo added an absence of w3-w5 divergence and the fact that the extension after an accumulation period (2018-2020) has been too short, and another leg up can be expected. 

The trader also said that he is looking for signs indicating that interoperable blockchain Polkadot (DOT) is prepared to rally against BTC. If DOT can recover critical support against Bitcoin at about $16.90, he will have no qualms about buying it. 
Capo added that DOT/BTC is reaching support level as forecast, but it is better to wait for a surge + HH (higher high) or even the bullish confirmation.

Meanwhile, ETH lower support is eroding amid weak price action near $1,810. The ETH price range has been confined in a narrow band near $1,819. It was the third consecutive time this week when Ethereum opened with a negative move. The selling pressure is immense on ETH, and Market forces precipitate it.
ETH prices continue to be in the red and may be ready for a surge. ETH values had surged at $1,928 but have remained within the falling price trend line. The danger zone for ETH is $1,820.75, indicating a possible low soon.
ETH/USD pair is not seeing much progress
The ETH/USD pair is not seeing much progress as the asset continues in its slide. Buyers are delaying the purchases, and the ETH/USD is looking drained and frazzled in the charts.
Experts believe that the Ethereum movement is all set to tank in between $1,808 and $1,720.There are no favourable tailwinds for the ETH/USD pair at the moment, which means nothing to lift the sentiment, and the sentiments will continue to be bearish.
Ethereum price movement in the last 24 hours: Stationary amid ambiguity
It was a mixed start to the day, saw Ethereum trade, and the value of ETH climbed $1,965.35 intraday high before reversing and dropping back into that price range. The prices slipped to $1,850.15 in the late-morning trading, and Ethereum price analysis shows a further decline on the way.
Later ETH tanked below the first significant support level of $1,852 before briefly revisiting the $1,940 levels. The gains made in the previous day came to nought, and Ethereum dipped into negative territory and remained there for most of the day. ETH must breach the $1,898 pivot before it makes its first significant resistance level of $1,945 come into play.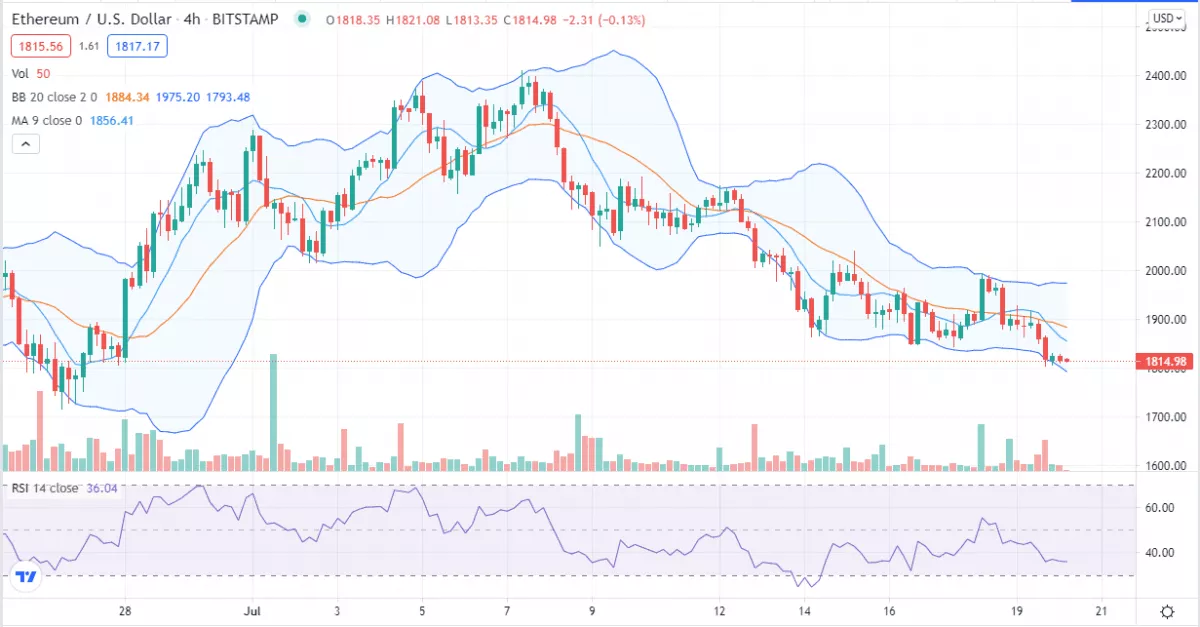 If Ethereum is to climb back up to $1,900, enhanced support from the broader market is needed. If the current rally in crypto assets is not sustained, it will be capped at $1,965.35, as that is the first significant resistance level.
---
Source
---
Back to the list