PancakeSwap (CAKE) 24-hour Transaction Count Hit 1.733 Million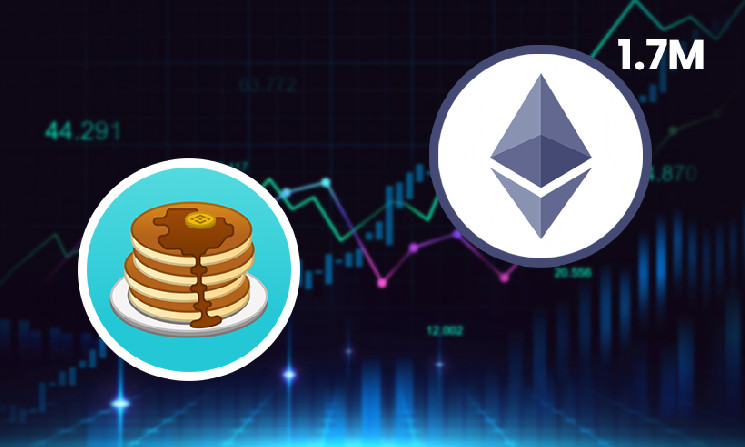 cryptoknowmics.com
02 May 2021 23:12, UTC
Reading time: ~2 m
---
The DeFi platform PancakeSwap (CAKE) has swept the position of ETH in 24-hour trade volume, attaining a new milestone of handling a daily transaction count of 1,733,484. The DeFi platform PancakeSwap 24 hour trade volume calculates to $1.7 billion with a total value locked around $9.86 Billion. 
It is observed as soon as the PancakeSwap data reads so, Ethereum reaches 1.427 million in the same span. CAKE is currently valued at $40 and continues to hover around $10 Billion trading volume. 
Daily Transaction of PancakeSwap transcend Ethereum
The DeFi platform PancakeSwap is modeled on the Binance Smart Chain. This is one of the impressive reasons for the increased daily transaction count on PancakeSwap. CAKE's success was also highlighted on CZ who stated that protocol had exceeded Ethereum's daily transaction count that currently stands at 1.427 million.
The news of the milestone of PancakeSwap was shared by CZ in the following tweet.
#Eth is the ultimate utopian destination of decentralization, for the rich guys who can afford it. #bsc enables freedom of access to DeFi and is inclusive of the regular people, like you and me.

😂 pic.twitter.com/5AJu0YaQ6A

— CZ 🔶 Binance (@cz_binance) May 2, 2021
PancakeSwap was launched in September 2020 on Binance Smart Chain. According to the price-tracking website, Coinmarketcap, the native token of PancakeSwap (CAKE) has a market exchange value of $0.50, during September and October last year. At the time of writing, CAKE is trading at $40 after hitting an all-time high of $44.18 on Friday, April 30th.
CAKE's Has escalated by 80x in Past Six Months
Calculating the rise of CAKE in the past six months, it is observed that it has increased by a factor of 80x from October to date. An increase by a factor of 88.36x to its recent all-time high, the parabolic rise of CAKE is best visualized by the chart courtesy of Coinmarketcap.
In an earlier tweet, CZ raised the fact that Ethereum is becoming too expensive for regular investors to invest in. As a consequence, the Binance Smart Chain has now become the hot place for regular investors 'like you and me'. 
His exact statement can be found in the following tweet:
Recent high-transaction fees on #Ethereum pushed more #tether flow onto #Tron
In the end no one wants to pay 20$ to send 100$.
EVM compabible blockchains make swaps almost seamless.https://t.co/jaAELoYoqR

— Paolo Ardoino (@paoloardoino) April 26, 2021
---
Source
---