Back to the list
Bitcoin Price Analysis: Critical Moment for BTC Amid Today's Weekly Close
cryptopotato.com
14 November 2021 17:43, UTC
Reading time: ~3 m
---
Since the major drop on Wednesday, the bitcoin price mostly traded around the same range of $64K. Today is the last day of the week; this means that on midnight UTC will see a weekly candle close. This candle close is critical for the next short-term.
The bulls need to see BTC makes a weekly close above $64.8k for the first step in breakout confirmation. As shown on the following chart, the bullish Cup and Handle pattern breakout was completed, with a back-test of previous resistance support at $64.8k.
In case of a bullish weekly close above $64.8K, it might turn into a very bullish signal and increase the probability of a rally towards $70k to $80k in the near term.
Despite the above, short-term holders will need to be mindful of the upcoming Mt. Gox Distribution.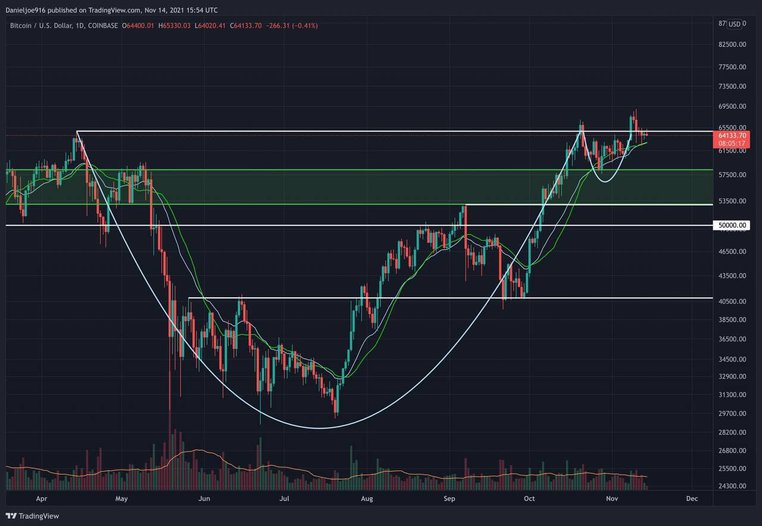 The Technicals
Overall, higher time frame technical indicators are very bullish
Near term, 4-hour chart has been slowly trending higher, and if this continues, this could help push BTC price higher over the near term.
BTC is likely in the middle of larger wave 5 to the upside (in the middle of sub impulse waves higher)
Near term, pullbacks look attractive to accumulate (if dips take place)
Near term support levels lie at $62.5k, $61.8k, $61.5k, $60k
More substantial support at $58.3k to $57.1k in case of more liquidations
For now, we have to wait for the weekly close, as mentioned above.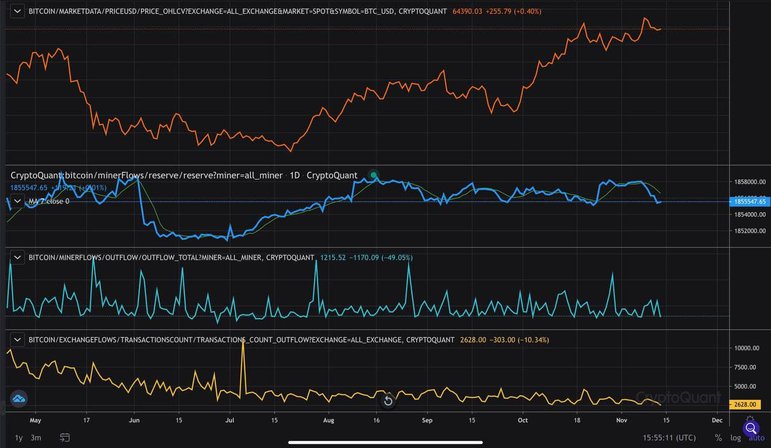 Onchain
Open interest flat at $15.3B with funding rates neutral, and leverage ratio at .19
Spot exchange reserves remain at multi-year lows despite the near term pullback
Miners continue to hold, with reserves at 1.855M BTC
Despite the above, there is a slight distribution from 18M to 2-year-old cohort. All other older cohorts continue to age.
With BTC making new all-time highs, we have seen certain older cohorts distribute lightly. This is expected and healthy to see as long as the price continues pushing higher (like happened before).
We have yet to see aggressive distribution from all older cohorts. This implies they are waiting for higher prices
Mean Coin Age has pushed the new all-time highs, but has been slowing in momentum, potentially starting a downtrend, which has historically led to the bull market's second half, meaning more aggressive distribution begins.
It's important to track the rate of distribution. The bulls need to see a gradual distribution rate as BTC price increases to help make the bull market more sustainable.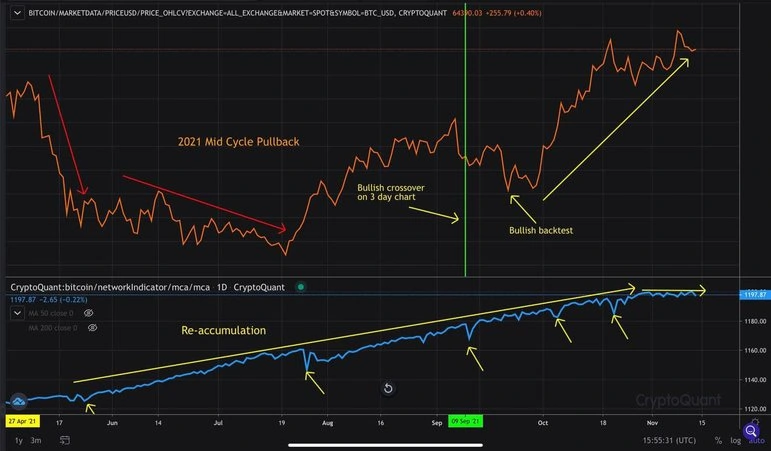 Verdict
Technicals will turn very bullish if BTC can make a weekly close above $64.8k, flip $64.8k as support, and follow-through higher. The overall trend in fundamentals, onchain, and technicals remains bullish, suggesting a significant upside ahead for the ongoing bull market.
---
---
Source
---
Back to the list