Back to the list
Peter Schiff Unhappy With CNBC Promoting Bitcoin Over Gold
www.cryptoglobe.com
06 August 2019 22:02, UTC
Reading time: ~3 m
---
Gold bug and perennial bitcoin critic Peter Schiff has taken shots at CNBC for its promotion of bitcoin over gold. 
Schiff Slams CNBC
On Aug. 5, Schiff took to Twitter to voice his displeasure over CNBC devoting more screen time to bitcoin as opposed to precious metals such as gold. He framed his argument in the context of the bitcoin price increase being related to Chinese economic upheaval, which he finds to be more betting and speculation than reality. 
According to the tweet, Schiff accused CNBC of attempting to "dupe" its audience into purchasing bitcoin. He called gold the larger asset class and claimed that CNBC was not properly allocating its airtime to reflect the market for precious metals. 
In addition, he disputed the idea that the Chinese are buying bitcoin at an accelerated pace in anticipation of economic upheaval. Instead, he said "speculators are buying," and assuming that the Chinese will consider bitcoin to be a safe haven--which may not be the case. 
CNBC is trying its best to dupe its audience into buying Bitcoin. Despite gold being a much larger market, CNBC devotes far more airtime to Bitcoin. The Chinese aren't buying Bitcoin as a safe haven. Speculators are buying, betting that the Chinese will buy it as a safe haven!

— Peter Schiff (@PeterSchiff) August 5, 2019
Twitter users and bitcoin supporters were quick to debate Schiff. Most argued that it would be difficult for "speculators" alone to impact the market, given the meteoric rise in bitcoin price which rose from below $10K to above $12K in less than a week. 
Yeah, because speculators can push the price of an asset up by 30% in one week... right? 😉

Just thought I'd share this week's Bitcoin chart with your Peter

Have a great day sir pic.twitter.com/Y2YfW7yYIh

— Josh Rager 📈 (@Josh_Rager) August 5, 2019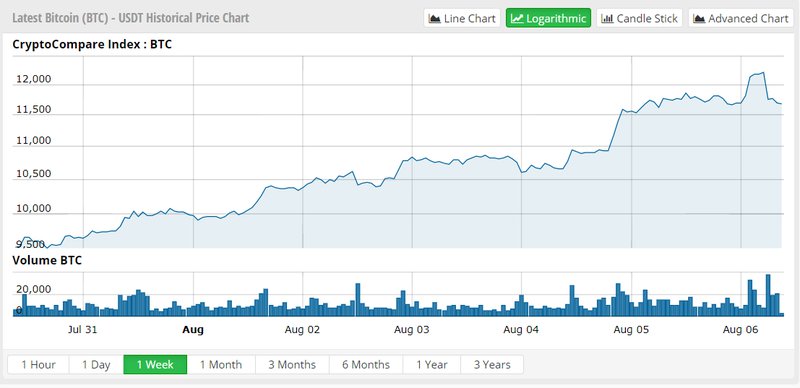 Bitcoin's price has been on the rise over the last week | Source: CryptoCompare
Institutional Investors
Schiff continued his argument against bitcoin, saying that while BTC may be outpacing precious metals in the short-term, gold and silver-stocks are overall ahead. He said investing in precious metals has more "upside potential" with less risk compared to bitcoin, and recommended cryptoasset investors jump ship to gold. 
Bitcoin may be up more than gold or silver today, but gold and silver stocks are up more than Bitcoin. Since there is much more upside potential with less downside risk in mining stocks than there is in Bitcoin, speculators should move from Bitcoin to precious metals stocks!

— Peter Schiff (@PeterSchiff) August 5, 2019
The gold bug also took shots at CNBC regular contributor Brian Kelly. Schiff accused Kelly of lying about bitcoin having institutional investors, with the network being complicit in the alleged false coverage. Schiff concluded by challenging the CNBC contributor to identify the institutional investors which he claimed have "piled" on bitcoin. 
Why does CNBC allow Brian Kelley to lie about Bitcoin? He just assured viewers that a new high in Bitcoin is a certainty because for the first time ever an institutional herd is now buying. Brian, I challenge you to identify those institutional investors that have piled in!

— Peter Schiff (@PeterSchiff) August 5, 2019
Schiff's comments about Chinese buyers of bitcoin are in contrast to a revealing Delphi Digital report, which claimed that global economic factors may be creating the "perfect storm" to boost bitcoin's price. 
---
Source
---
Back to the list