Back to the list
Bitcoin Crosses $9,900 As Crypto Analyst Declares Altcoin Purge Underway
dailyhodl.com
21 June 2019 21:50, UTC
Reading time: ~3 m
---
Crypto analyst Nicholas Merten says Facebook's Libra is having a major impact on not just Bitcoin, but a wide swath of alternative cryptocurrencies as well.
According to Merten, Bitcoin's rising dominance, which is now at 57.38% according to CoinMarketCap, marks the beginning of a long term altcoin purge that will drive the price of far more obscure cryptocurrencies lower.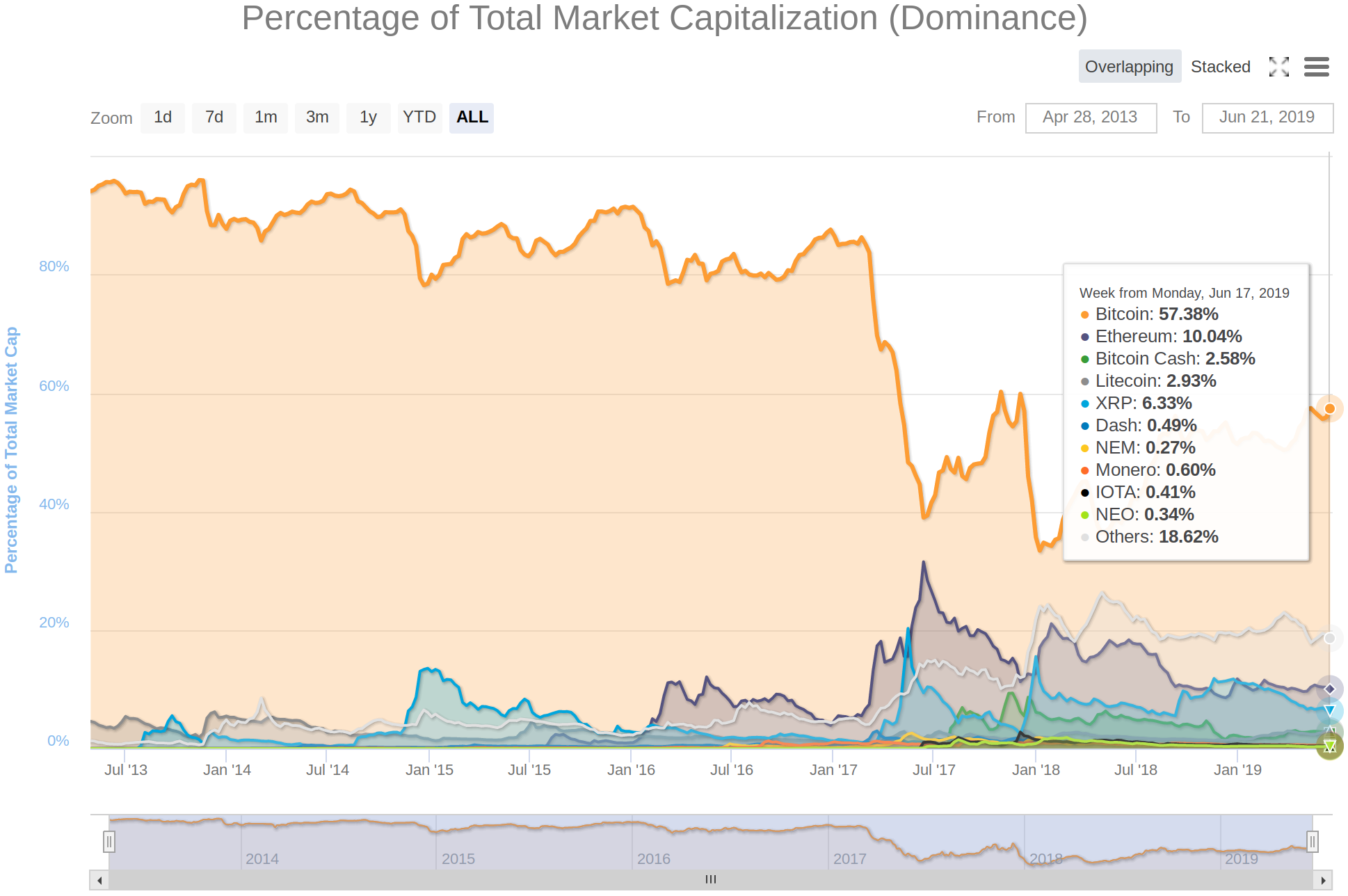 "I think right now you're seeing a huge purge of a lot of different altcoins out there due to a few different things. First off, Libra I think is going to take away a lot of the kind of fast payment settlement market that's out there at the moment. I think a lot of those altcoins, some of which I really like – I love a lot of the peer-to-peer digital currencies – are going to have to find other selling points to utilize in their cryptocurrency networks.
But outside of those, Bitcoin itself is seen as this new global hedge, as a new store of value to escape flight capital outside of all of the different markets such as equities, properties, currencies, you name it, in order to avoid all of the fears in regards to trade wars and what's going on in countries like Hong Kong at the moment and the currency crises that are going on in South Africa, Turkey, Argentina and Venezuela. There's a whole basket of things."
Right now, the top 10 coins by market cap aside from Tether are all in the green. Bitcoin is up 4.86% at $9,908 according to COIN360. Ethereum is up 9.26% at $293.28 and XRP is up 3.32% at $0.4419.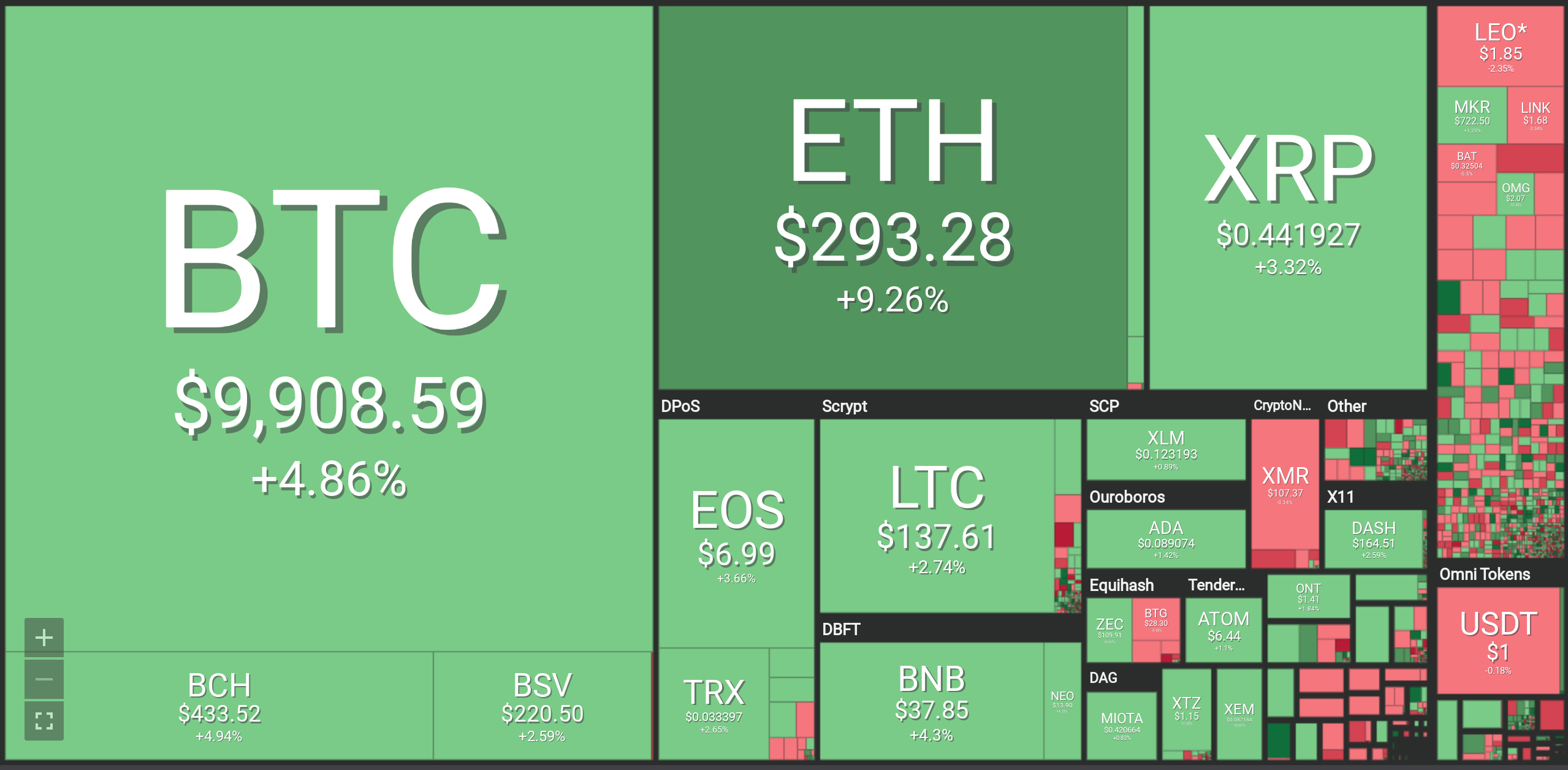 In the short term, Merten says he's sticking to his prediction that Bitcoin will go through a temporary cool-down after reaching about $10,000.
"I think after this, you are going to need a cool-down. But considering all of these factors, I don't see the cool-down lasting that long. And I'm not even certain if I see it going all the way to $6,000 like I originally presumed. And the reason I say that is because there are just a lot of factors that make this time very exciting for Bitcoin…
I do believe that this is going to experience some form of correction. Now, whether that's down here to $6,800 to $6,000 there's no really good way to tell right now where that level is going to be. We'll have to see what happens when we hit that psychological level. If selling starts to hit quite dramatically, maybe we could see $6,000 to $7,000. A standard 30-40% correction that we see not only after Bitcoin exited out of the bottoming or basically consolidation phase but also it's very common in bull markets, if you want to consider that we're in a bull market. In the last rally, every single correction outside of one exception was between 30-40%. So that's not too crazy to estimate."
---
Source
---
Back to the list