A bullish day for Bitcoin: Bakkt, Starbucks, eBay, Microsoft and more...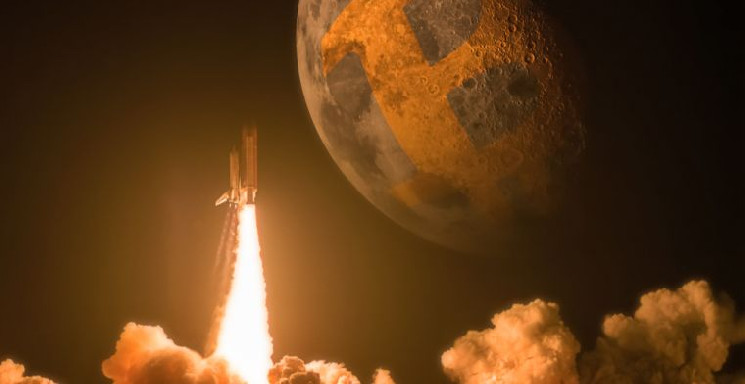 www.chepicap.com
2019-05-13 21:00
Reading time: ~5 m
---
Today marks a fairly momentous day for Bitcoin, so far we've had extremely bullish news from major players such as Bakkt, Starbucks, eBay and Microsoft, all on a Monday; best of all? it's all translating fairly nicely into price action… Here an overview of today's most bullish news.
Stocks DOWN Bitcoin UP
Today's good news kicked off with the slump of the US stock markets, with Dow Jones futures reporting a 500-point loss earlier today.
While this isn't the best of news for the global economy, it seemed to signify a movement from traditional assets into Bitcoin, as BTC's potential as a safe haven asset was realized.
This was noted as one of the catalysts for Bitcoin's rise above $7300 earlier today as disillusioned stock investors seemingly found a new sanctuary in BTC.
We may be witnessing Bitcoin turning into a safe haven asset in real time. What a time to be alive.

— Marty Bent (@MartyBent) May 13, 2019
Bakkt to begin Bitcoin testing
Beyond price action, the first bit of bullish industry news came from Bakkt and the announcement a testing phase for the exchange in July.
Today, we're pleased to update you on the launch of bitcoin futures contracts developed by Bakkt in collaboration with ICE Futures U.S. and ICE Clear U.S. https://t.co/8G3YcFbPl2

— Bakkt (@Bakkt) May 13, 2019
A post written by Bakkt CEO, Kelly Loeffler, relayed the news that crypto aficionados have been waiting for, the beginning of testing for Bitcoin futures contracts:
"In conjunction with our exchange and clearing partners at ICE, we'll be working with our customers over the next several weeks to prepare for user acceptance testing (UAT) for futures and custody, which we expect to start in July," reads the post
Bakkt will also offer a crypto custody service, for the physical delivery and secure storage of Bitcoin:
"Safekeeping will be supported by insurance, cybersecurity, and comprehensive compliance, including an anti-money-laundering program and blockchain analytics," adds the post
eBay to accept crypto?
Next up was the rumor that eBay is readying to accept cryptocurrency payments.
Speculation started spreading after a consensus 2019 attendee snapped a photo of an eBay advertisement, which blatantly hinted to the adoption of crypto as payment:
"Leaked from Consensus, eBay possibly announcing the support of cryptocurrencies on their website." - @PatronsOfTheMoon Telegram. #share #bitcoin #cryptocurrency pic.twitter.com/xqbpdysUic

— wolf (@ImNotTheWolf) May 12, 2019
rumours ran wild, with theories which suggested that eBay was either looking to accept cryptocurrencies, make their own, or simply partner with a third party crypto payments processor.
Starbucks and Wholefoods accepting crypto payments
The good news didn't end there, soon after came the revelation that mainstream retailers such Starbucks, and wholefoods were jumping in on the crypto revolution and accepting crypto payments via a partnership between the crypto exchange Gemini and crypto payments firm Flexa.
Partnering with @FlexaHQ to power the future of payments using #crypto easily. Now accepted at major retailers. Download SPEDN in the Apple store! #CryptoNotCredit https://t.co/zrpspPmkN9 pic.twitter.com/KVAB8BL5zv

— Gemini (@Gemini) May 13, 2019
The partnership will allow customers to spend cryptoccurencies such as Bitcoin, Bitcoin cash, Ethereum and Gemini's stablecoin the Gemini Dollar within selected stores including rate and Barrel, Nordstrom, and Amazon-owned Whole Foods, with Regal Cinemas, Gamestop and Baskin Robbins and Starbucks:
Tyler and Cameron Winklevoss are buying a coffee at Starbucks using a cryptocurrency they invented. But that's just the beginning of this story, with Nordstrom and Whole Foods now officially accepting bitcoin, ethereum and more: https://t.co/uaRnnfl2Dz via @ForbesCrypto @Forbes pic.twitter.com/V95RMv6f6x

— Michael del Castillo (@DelRayMan) May 13, 2019
Microsoft build on the Bitcoin blockchain
Lastly it was revealed that Microsoft was jumping into the decentralized ecosystem by building their new tool for decentralized identification upon the Bitcoin blockchain.
The venture, known as Ion, looks to secure information within systems utilized by companies such as Airbnb and Uber, allowing intercommunication between networks, identity validation, and proof of data ownership, without compromises to privacy.
 Christopher Allen, co-founder of the world wide web consortium (W3C) 
 notes just how much of a win this is for Bitcoin and the wider crypto community:
 "To have Microsoft say they are not scared of bitcoin, and in fact, it has some very good properties and we are willing to take advantage of those properties, is, I think, a step in the right direction."
Thanks to all of these developments - and their incredible timing - BTC managed to gain a massive 16% rising to a peak of $7900: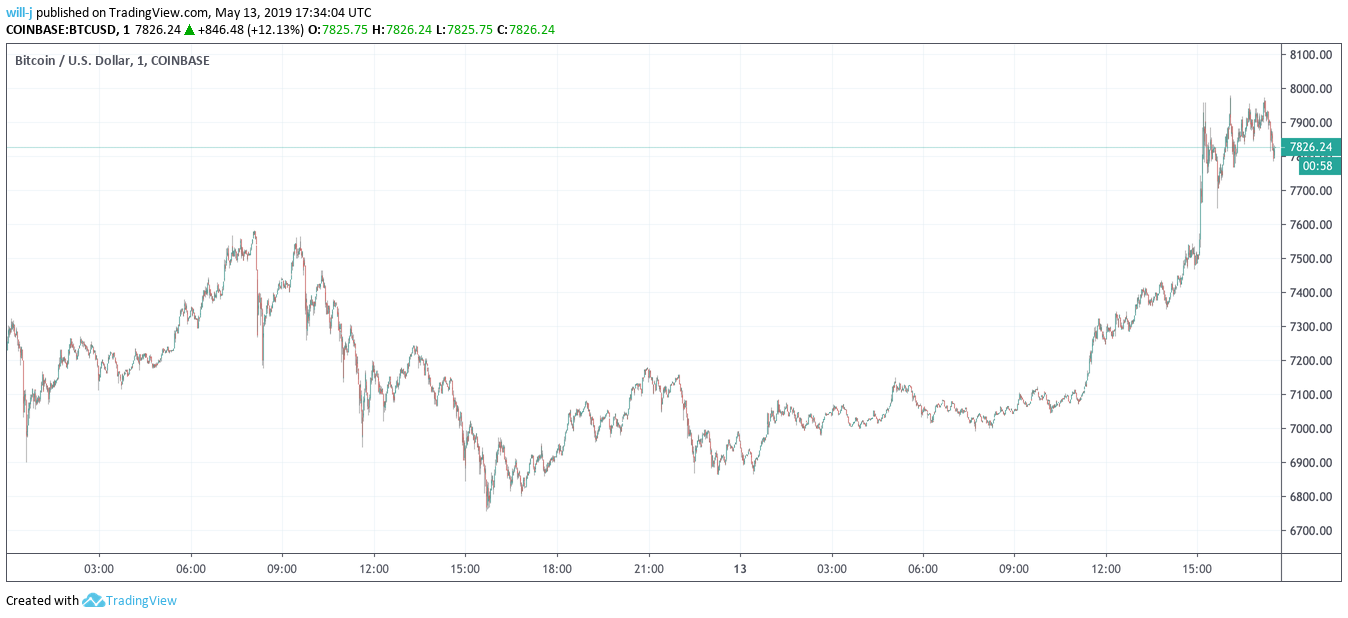 BTC/USD Chart provided by Tradingview
Now, BTC eyes $8k, a price point which seems tantalizingly close. Will all of these developments be enough to push BTC over the edge? Let us know your thoughts in the comments!
The last time Bitcoin broke $8,000:

Microsoft wasn't building on it.

Congress wasn't fighting it.

Bakkt wasn't launching with it.

Square wasn't selling it.

Fidelity wasn't storing it.

TD Ameritrade wasn't trading it.

Whole Foods wasn't accepting it.

— The Rhythm Trader (@Rhythmtrader) May 13, 2019
---
Source