Back to the list
Bitcoin May Be Heading For Another Roller-Coaster Ride This August
coinfomania.com
02 August 2021 00:46, UTC
Reading time: ~2 m
---
Last month was an intriguing month for Bitcoin. It was less thrilling from the beginning of the month but the thrill started towards the middle of the month as BTC started decreasing in price. The start of the consecutive drop that lasted for almost two weeks started with a 3% drop.
Most traders will call July 2021 a fair month as the largest coin volatility satisfied all the major players in the market. More than $2 billon short positions as well as long positions got liquidated during this time. The King coin hit a low of $29,300 and a high of $42,414. Overall, the last 31 days was bullish as BTC gained 18.3%.
The beginning of the month is dull but get very interesting at the middle with the extra topping at the end; this has been the trend for the past two month. It is also noteworthy that since April, bitcoin suffered series of price corrections starting on the 12th or 13th day of the month. Will this month be any different?
We may see the same trend as the previous month. Before the major drop, we may see a steady 1-2% drop and increase. August is not always a month of big move for the king coin. According to bitcoin monthly return heatmap, the eighth month of the year is not very favourable for the largest crypto by market cap.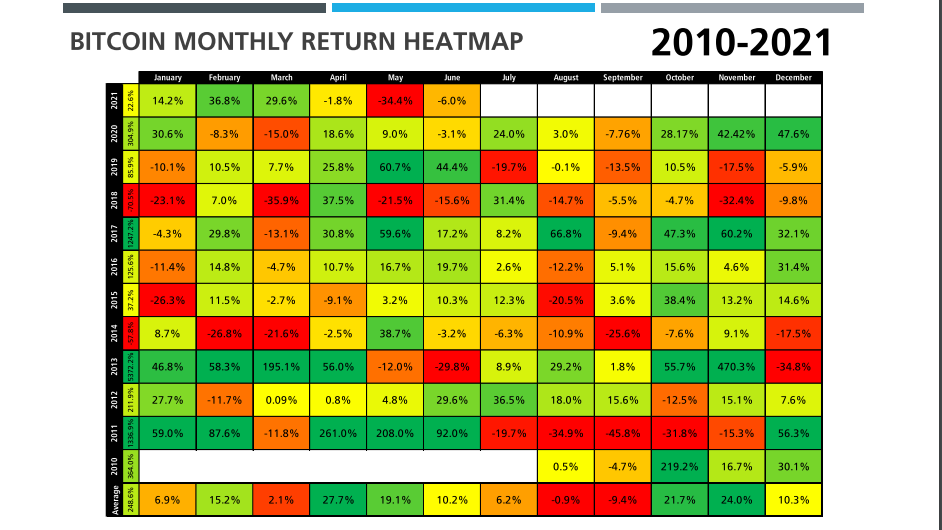 Since BTC introduction to the market, eleven August has passed. Of all these, bitcoin lost significantly in six and gained five. On the average, the king coin losses 0.9% August. They is clear pattern to losses, but this month may be different. The last eleven days of the previous month saw more bullish than in the last three month.
These eleven days saw greed return to the market as the bulls are more hopeful an end to the bearish dominance. If the current bullish momentum continue, BTC may record gains at the end of the month regardless of the dips it may suffer
---
Source
---
Back to the list