Back to the list
DGB Technical Analysis: Support Levels of $0.0489, $0.0468, and $0.0441 Will be Tested
cryptoknowmics.com
19 June 2021 09:46, UTC
Reading time: ~2 m
---
DigiByte is an open-source blockchain creation platform. It was started in 2014 on the nodes of bitcoin. It was originally built to improve security, capacity, and transaction speed than blockchain. Also, DGB uses five separate algorithms to maintain privacy and prevent miners from getting too much power. The following DBG technical analysis will predict the price trends for the next few days:
Past Performance
On June 12, 2021, DGB opened at $0.06. On June 18, 2021, DGB closed at $0.05. Thus, in the past week, the DGB price has decreased by approximately 16.28%. In the last 24 hours, DGB has traded between $0.483 – $0.548.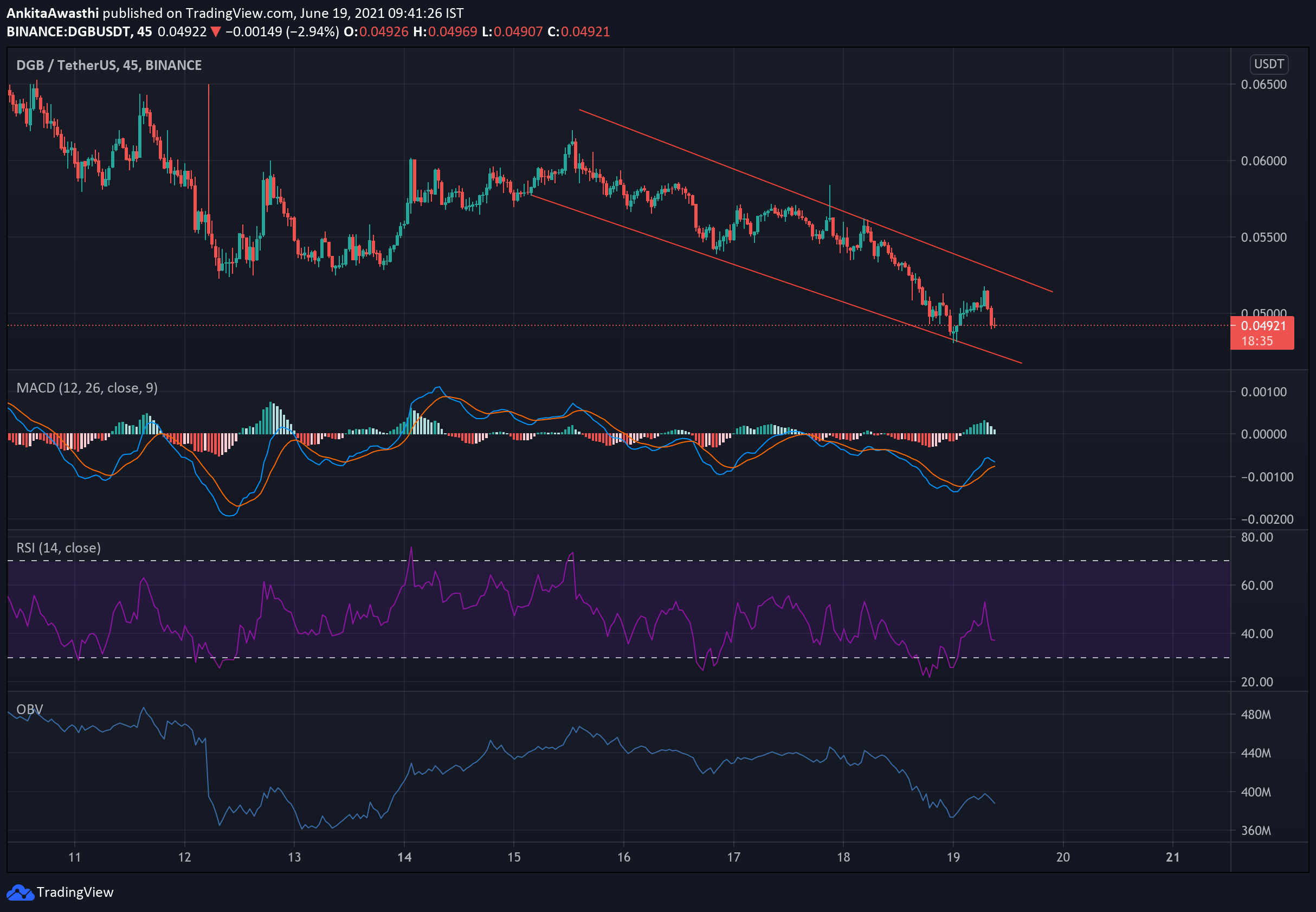 https://www.tradingview.com/x/p61sR6IE/
Day-Ahead And Tomorrow
Currently, DGB is trading at $0.0491. The price has decreased from the day's opening price of $0.054. Thus, it seems like bears have taken control of the market.
The MACD and signal lines are in the negative zone. Moreover, a bearish crossover by the MACD line over the signal line has occurred. Thus, the overall market momentum is bearish. Hence, the DGB price may decline further.
Currently, the RSI indicator is at 34%. It faced rejection at 52.84% and has fallen straight to this level. Thus, it indicates that the selling pressure is high in the market. We have to wait and watch if buying pressures become strong enough to bring about a bearish trend reversal.
The OBV indicator is downward sloping. Thus, selling volumes are higher than buying volumes. High selling activity will exert downward pressure on the DGB price.
In short, when we look at all three oscillators, we can say that the price may continue to fall. However, we cannot rule out the possibility of a trend reversal.
DGB Technical Analysis
Currently, the price is below the second Fibonacci pivot point of $0.0503. If the bears remain strong till day end, then the price is likely to fall below the first, second, and third support levels of $0.0489, $0.0468, and $0.0441, respectively.
The price has tested and fallen below the 23.6% FIB retracement level of $0.0503. It may soon fall below the FIB retracement level of $0.488. Thereafter, we have to wait and watch if the price retests and breaks out of these levels.
---
Source
---
Back to the list