Back to the list
KSM Technical Analysis: Expect Price to Fall Below the First Fibonacci Pivot Support Level of $259.69
cryptoknowmics.com
19 June 2021 09:44, UTC
Reading time: ~2 m
---
Kusama (KSM) offers an interoperable and scalable platform to blockchain developers. Developers use Kusama, to design and develop blockchain applications. Kusama is designed to provide a testbed to the developers trying to innovate with blockchain technology. The KSM technical analysis is as follows:
Past Performance
On June 12, 2021, KSM started trading at $416. As of June 18, 2021, the closing price of KSM was $313.34. Thus, in the past week, the KSM price has decreased by roughly 24%. In the last 24 hours, KSM has traded between $300 – $341.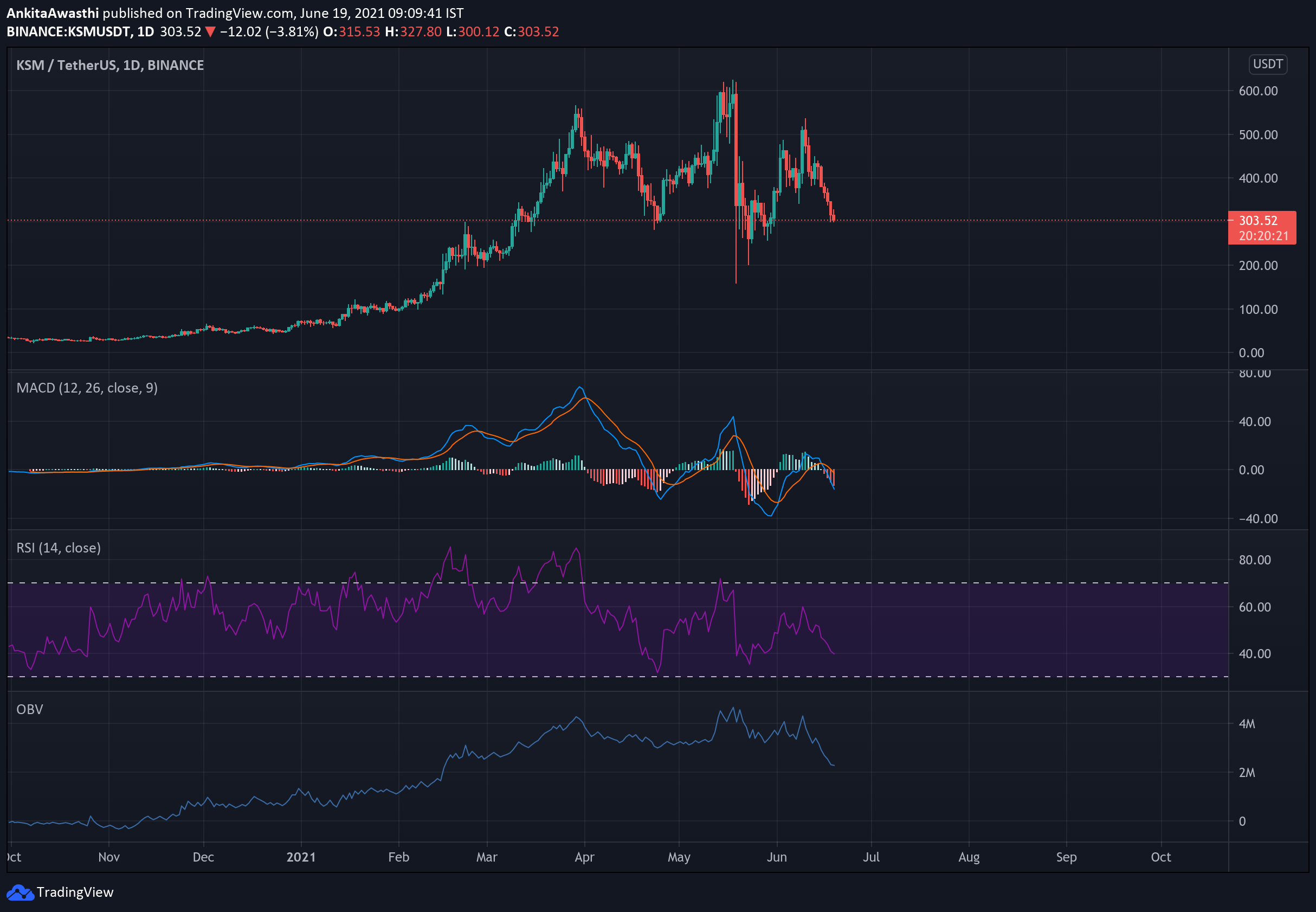 https://www.tradingview.com/x/KxzTWj13/
Day-Ahead and Tomorrow
Currently, KSM is trading at $304.5. The price has decreased from the opening price of $341. Thus, the market looks bearish.
The MACD and signal lines are negative. Plus, a bearish crossover by the MACD line over the signal line has occurred. Thus, the overall market momentum is bearish, and we can expect a price pullback.
The OBV indicator is gradually falling. Thus, selling volumes are higher than buying volumes. Hence, we can expect the KSM price to decrease.
The RSI indicator is at 39%. It has just fallen from the 60% mark. Thus, selling pressure is slowly mounting. Hence, we can expect the price to fall again for a few hours.
In short, when we look at all three oscillators, we can say that the price may continue to fall. However, we cannot rule out the possibility of a trend reversal. We have to wait and watch to see if an intermittent price fall is a correction or the beginning of a downtrend trend.
KSM Technical Analysis
The price has fallen below the Fibonacci pivot point of $325.13. As some of the oscillators have shown bearish signals, we can expect the price to fall below the first Fibonacci pivot support level of $259.69 soon.
The price has tested and fallen below the 23.6% FIB retracement level of $325.13. If the price falls below the FIB extension level of $259.69 in some time, this implies that the price downtrend is strong. In that case, the price downswing is likely to continue tomorrow as well.
---
Source
---
Back to the list