Back to the list
GALA Technical Analysis: $1 Dream Can Come True With Bullish Breakout 
cryptoknowmics.com
08 December 2021 09:37, UTC
Reading time: ~2 m
---
The constant support from $0.45 hints at the bullish breakout of the falling channel which can help the GALA coin price to reach the $1 mark.
GALA, a privately-owned company, is responsible for the protection of its network and users' funds. BitGo is used to hold its digital assets. BitGo stores coins in cold wallets and acts as a custodian. It also has insurance coverage worth $100 million.
Read more to know more about the technical analysis of the GALA token.
Past Performance of GALA
The GALA coin price is under a strong bearish influence as it stays within the falling channel in the 4-hour chart. Moreover, since last week, the prices fell more than 35%. 
However, the prices found support near the $0.45 mark as it halts the downtrend and pushes the price higher.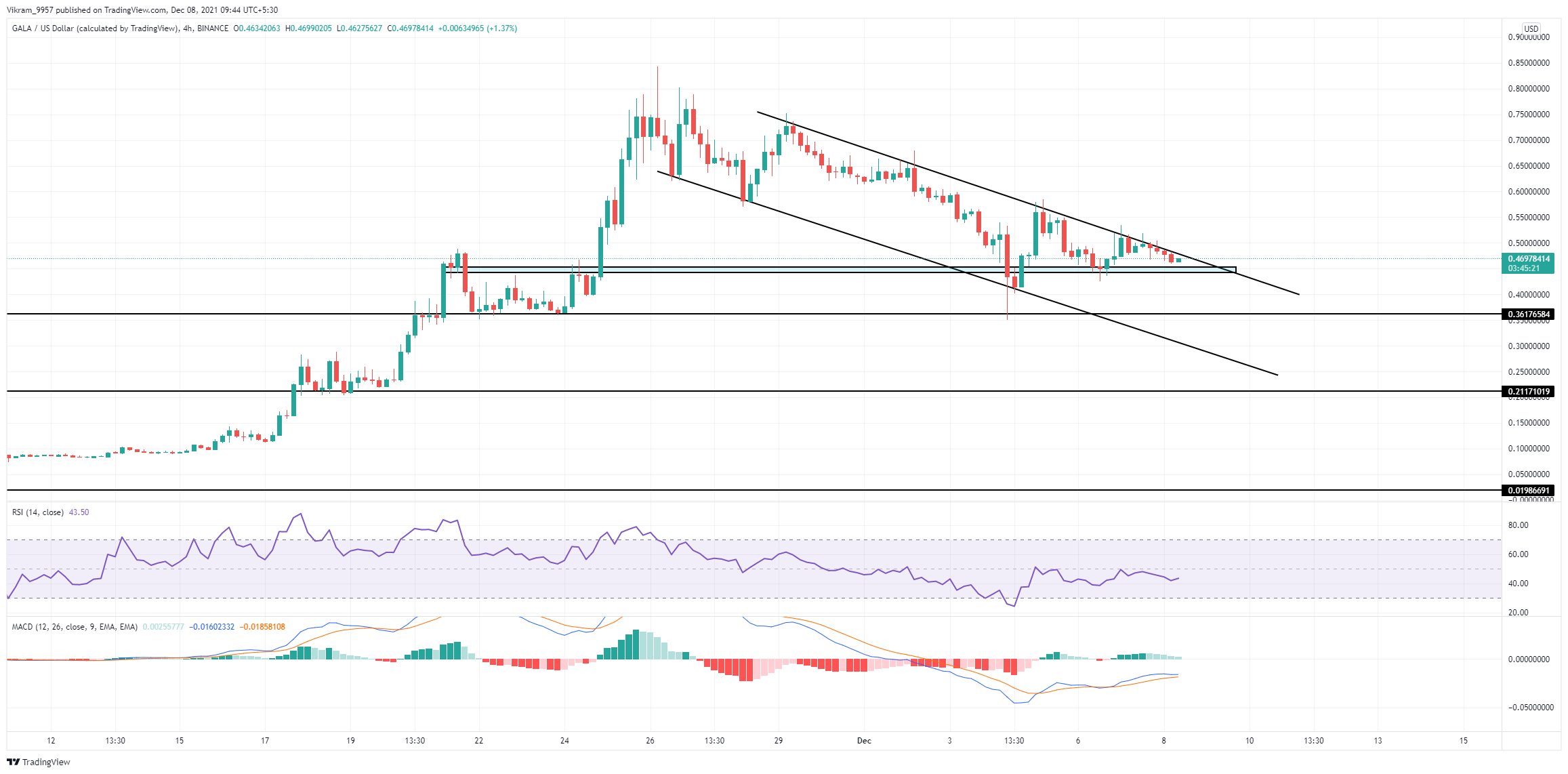 GALA Technical Analysis
The GALA token price trades near the resistance trendline of the falling channel. Moreover, the support zone near $0.45 dilutes the bearish influence resulting in the increased chances of a bullish breakout. 
Traders can find the bullish breakout as a lucrative entry sport; however, safe traders might want to wait till the prices sustain above the $0.50 mark. It will help them avoid any bull trap present in the chart. 
The pivot points and the price action indicate the following upside target at $0.75 and $1 mark. And, in case the $0.45 zone collapses, the falling GALA prices can find refuge at $0.36 and $0.25.
The RSI indicator reflects the increased chances of a bullish reversal in GALA prices as the slope stabilizes above the central line in the daily chart. Moreover, the dips at $0.45 result in a bullish divergence in the 4-hour chart. Thus, the indicator hints at a bullish breakout.
The MACD indicator projects the fast and slow line rising higher in the 4-hour chart. Moreover, the lines maintain a positive formation as they approach the zero line to enter the positive territory. If the lines manage to accomplish this feat, traders can find safe bullish entry spots.
Upcoming Trend
After the amazing bull run, the GALA coin price shows almost 40% correction within two weeks. However, the technical indicators and the price action hints at a bullish reversal which can help the coin reach new heights before the end of 2021.
Traders need to avoid the possible bull trap in the price action. And thus, need to wait till the GALA price manages to sustain above the $0.50 mark. The targets can be marked out at $0.75 and $1 mark with a stop loss at $0.40.
And if the price breaches the $0.45 zone before the breakout, traders can find selling opportunities with a target at $0.35.
---
Source
---
Back to the list