Back to the list
CHZ Technical Analysis: With Positive BUY Signal, Proceed with Caution
cryptoknowmics.com
26 November 2021 08:34, UTC
Reading time: ~3 m
---
Chiliz is the leading digital currency for sports and entertainment by the eponymous Malta-based FinTech provider. It operates the blockchain-based sports entertainment platform Socios, which enables users to participate in the governance of their favorite sports brands. Multiple fan tokens by Socios.com are an example of that. For sports clubs and associations, fan tokens offer a way of connecting with their fans and unlocking new revenue streams.
Past Performance
Working on an average price of $0.308 in the past few months, CHZ took a substantial increase on October 30, 2021, to $0.524 levels and is on its way to building a new moving average. Since hitting a low of $0.243 on Sept. 29 the price of CHZ spiked 171% to a daily high at $0.657 on Oct. 31 and recent developments are now pushing the price back towards the swing high.
While the past 24 hours saw a small fall of 4.7%, the overall price momentum has been great for hodlers. The opening price was $0.500 and the closing price was $0.478.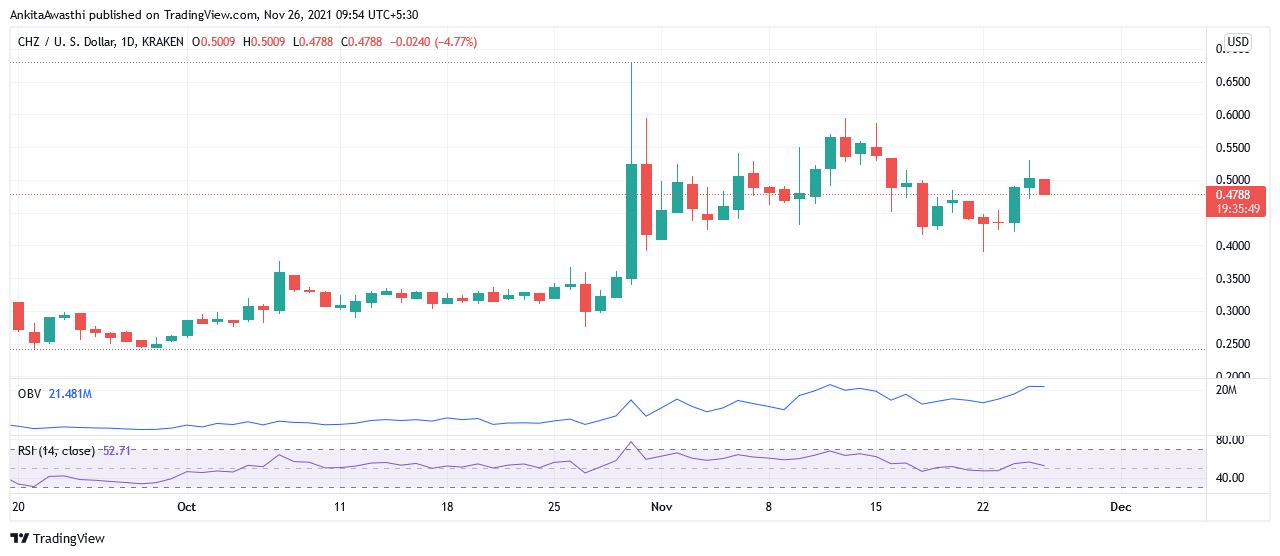 Source: https://www.tradingview.com/x/xYMdLqPd/
CHZ Technical Analysis
The slight decrease can be a result of new momentum, but nothing that should alarm medium-term or long-term traders. Now, let us first look at what the oscillators have to show us.
The OBV is following a pattern similar to the price chart overall. Thus, the buying volumes are higher, pushing the CHZ price to move upwards. We suggest a wait and watch approach for the next 8-hour to see how does it move in tandem with the price, which is in a little downturn as of now.
The RSI is showing that the bulls are taking control of the price today. It is above the 50% level, slightly around 52%. Thus, giving a neutral stance, which could be an indicator to check for any surprises.
The Moving Averages have been giving a strong BUY signal, although the SMA (20) was $0.487 with a SELL signal.
With a new design, new NFTs are minted as they happen based on key moments in live matches, and then they are dropped to the wallet of fan token holders who correctly predict the outcome of a game.
The announcement that this new method of distributing NFTs was followed by a spike in demand for the token, which has continued to build in the following weeks.
Another reason for the building momentum of CHZ has been the addition of new exchange listings, as well as its newly released fan tokens for clubs like São Paulo FC, AC Milan, and Manchester City.
Price Trends for the Day-Ahead and Tomorrow
CHZ coin has been behaving bullishly during the past few months, and analysts predict the trend will continue. However, Indian investors should be cautious on the back of any crypto ban that might occur. Though, the global prices seem poised for good growth.
Looking at the Fibonacci pivot levels, we see that the price is currently being tested at $0.444. If prices fall below this level shortly, watch for support levels of $0.285 and $0.187.
The next R1 level to watch will be $0.636, followed by a quick R2 of $0.857 and then R3 of $1.272. What remains to be seen is if these levels persist.
---
Source
---
Back to the list