Back to the list
Crypto Market Forecast: Week of November 22nd 2021
bravenewcoin.com
22 November 2021 01:33, UTC
Reading time: ~4 m
---
The Bitcoin and digital asset markets have pulled back after a blockbuster start to Q4. Bitcoin (BTC) ended the week down ~7%, while Ethereum (ETH), and Binance-coin (BNB), the 2nd and 3rd largest assets on the Brave New Coin market cap table, are down ~5%, and ~8% respectively. The price of BTC is down ~14% from its all-time high price peak hit 11 days ago.
The general assessment from markets is that the current leg down is a healthy correction, part of the natural process of profit-taking and flushing out of leverage following a price breakout. Crypto markets data provider Coinglass reports that on November 11, US$500 million worth of Bitcoin longs were liquidated across Bitcoin futures trading platforms. On November 12, a further US$700 million was lost.
In digital asset trading markets, there are fewer barriers to leverage than in legacy markets. Additionally, some crypto exchanges allow traders to access up to 125x leverage. The proposition of high returns with minimal capital attracts punters to try and make risky long calls when markets have positive price momentum. This scenario often leads to markets overheating and wary traders counter-trading leveraged longs.
Bitcoin markets have a history of volatility and have shown an ability in the past to shake off even 30% pullbacks. This year between the 7th and 22nd of September the price of the asset dropped ~23%, from trading for ~US$52,740 to ~US$40,380. Between the 15th and the 22nd of June, it dropped ~22%, from trading near US$40,620 to US$37,710.
Price drops like these have been blips in an otherwise exceptional year for BTC. They are simply phases of consolidation before the next leg upwards. Year-to-date the price of the asset is up ~106%. A factor in why investors have continually returned to the asset following price drops is the strong fundamental performance of the Bitcoin network this year. During the ongoing period of negative price action Bitcoin's fundamentals have once again remained strong.
The Bitcoin hashrate is surging and is close to establishing new all-time highs. On November 20th, the hashrate was ~163 Exahashes per second and not far from the all-time-high of ~180 Exahashes per second established around 6 months ago. The fundamental metric which is a gauge of how secure the network is has been on a sharp uptrend over the last 6 months. Mining difficulty has adjusted 9 times upwards to compensate for the rising hashrate and it is now around the same level it was when the hashrate last hit all-time highs before the China ban.
Usage of Bitcoin's layer 2 scaling solution the Lightning network has hit new all-time highs. The amount of liquidity on the network hit ~3225BTC last week. A key driver in the pickup in usage has been the adoption of BTC as a payment medium in Central American country El Salvador. A large segment of the population now uses Bitcoin and Lightning daily, since it was made legal tender, to pay for groceries, buy Starbucks and Mcdonald's, and everyday spending.
The successful activation of Taproot on November 14th, Bitcoin's first major update in almost four years, caps off an excellent period of fundamental momentum for Bitcoin.
Crypto news for the week ahead
November 29th - The Sandbox alpha
The Sandbox metaverse is launching an alpha version of its product on Monday. The alpha will be a multi-week play-to-earn event where users will be able to earn up to 1,000 SAND and exclusive NFTs. 5000 alpha passes will be handed out to users to experience the Alpha. Metaverse-centric crypto projects have surged following an exploration of the tech by mega-corporations like Facebook and Microsoft. SAND is up ~426% in the last 30 days.
November 25th - Cardano 360 November Edition
On Thursday, the Cardano blockchain community will host its regular 360 event. During the event latest updates and developments will be shared from across the Cardano universe, covering both tech and community news. The native token of the Cardano, ADA, is up ~9%.
Top 10 Crypto Summary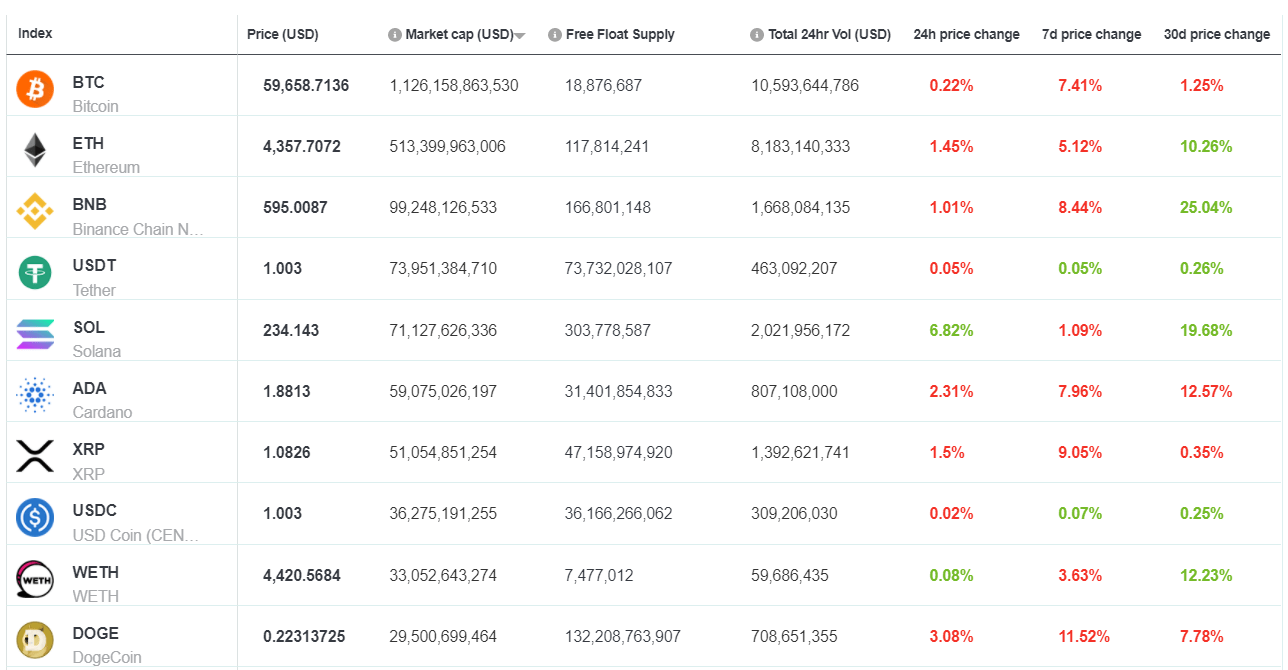 Like BTC, the rest of the large-cap digital asset markets has experienced a period of consolidation over the last 10 days. Billionaire crypto thought leader and CEO of Three Arrows, Su Zhu, wrote on Twitter today that he has 'abandoned' Ethereum despite supporting it in the past because in his view, Ethereum has abandoned its users. Fees on the network have become unsustainable for many users with the average cost of a trade on Uniswap now ~US$95. With cheaper and faster alternatives now available many users are leaving the network.
__Bitcoin Price Chart__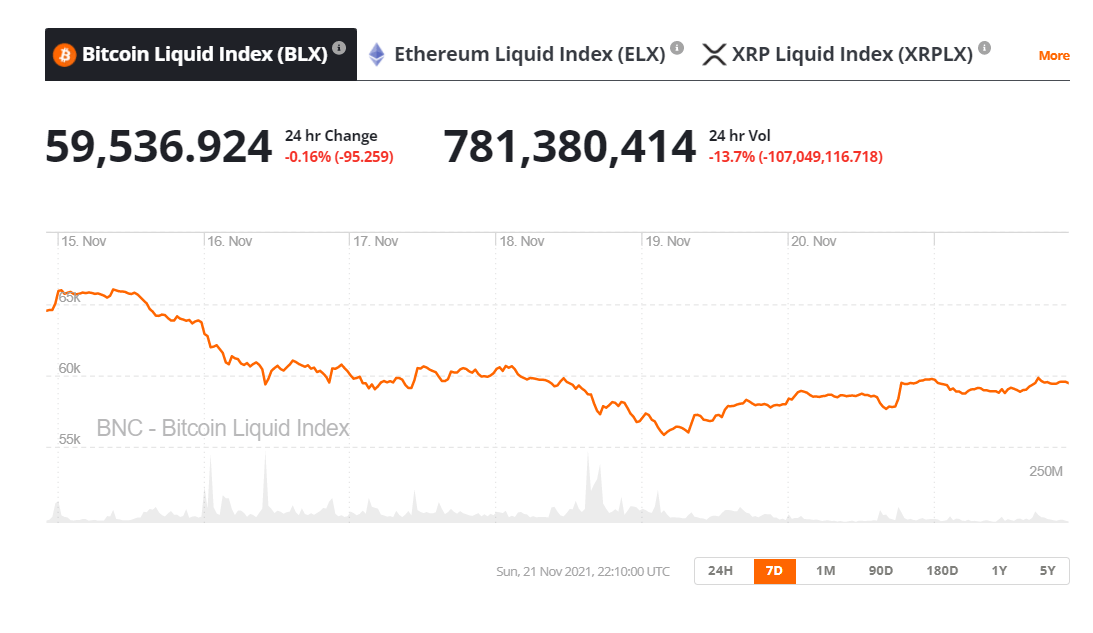 Following a sharp spike in selling to begin the week, BTC found price support near the US$56,000 price level and the price of the asset is now pushing near US$60,000. Glassnode reports that following the recent price drop, the onchain landscape has changed so that now 83% of holders are in profit since they last moved coins, but a sizable 17% are no longer in profit. It appears that long term holders, however, are unphased by the leg down and during the price dip moved just 0.7% of their BTC holdings.
---
Source
---
Back to the list