Back to the list
Chia Network (XCH) Price Prediction 2021-2025: Can It Break The $1,000 Bar? 
cryptoknowmics.com
14 November 2021 03:36, UTC
Reading time: ~5 m
---
With the growing demands of smart contracts, Chialisp, Chia Network's Smart Contract Programming Language, can help XCH coin price hit $1000 by 2025.
Particularly with cryptocurrencies, the outcome of technological progress in terms of conceptualizing, thinking, strategizing, and conceptualizing has been incredible. Those that adapt to changing market environments grow rapidly. Those that fail to keep up with this sentiment perish. It is the same for many cryptocurrencies.
Chia Network is a blockchain platform where Chia Coin (XCH), or BitTorrent's inventor Bram Cohen, circulates. Chia Network Inc. runs Chia. A company that plans to go public with an ambitious goal to make Chia a digital currency of enterprise-grade quality, Chia.
Chia Network has been described as a Level 1 solution. Like Ethereum and Bitcoin, it does not use existing infrastructure. The whole network, including Chialisp, the smart transaction programming language, is built entirely from scratch.
The main thing that makes Chia unique is the new consensus protocol known as Proof of Space and Time. It demands that the network's participants either use the empty space on their hard drives for farming (as it's called, instead of Chia mining) or solve more computationally-intensive puzzles (for "time").
A minimum of 100 Gb is required to join the network. This makes Chia Farming much more affordable for the average person than Bitcoin and Ethereum mining.
Chia prides itself on being environmentally friendly by using very little energy.
The Chia Network academic papers were published in January 2018. The company milestones include three stages:
Pre Alpha Stage (2018)-2019
The first idea of the project's design was published.
The first open-source release of a library
Verifiable delay Function (VDF), release
Green Paper and Proof-of-Space software.
An alpha wallet sim and scripting language documentation are available for Chialisp.
Alpha implementation of Chia Network's testnet cryptocurrency.
Beta Stage (2021-2021)
Beta release of the blockchain, which included full wallet functionality as well as transactions and smart coin support on the testnet blockchain.
The IETF BLS Significance standard release
The new consensus algorithm is built on an idea taken from the Proof of Stake Longest Chain Protocols Revisited paper.
The mainnet is for the blockchain release by Chia Network.
Chia Network (XCH) Token: Price Analysis
Flashback: The Fundamental Analysis of Chia Network (XCH)
The current price of Chia Network is $181.19, according to CoinMarketCap. Chia Network has 1.58 million coins in circulation and a market capitalization of $286 million.
Over the past week, crypto has seen a 30% rise. Comparing today's market cap of XCH with the previous month, we can also see a significant increase.
The XCH coin has shown a strong upward trend in the last few weeks. It increased by 40% over its all-time low of $130. Chia Network sells for a lot cheaper than it was listed for. Hence, this could be an excellent opportunity to invest.
Due to Chia Network's strong foundations, we can expect massive growth in the future.
Let us now look at the future Chia Network price prediction.
Chia Network (XCH) Price Prediction 2021
Chia Network token price has been trending lower since the listing. However, the last few represent a bullish reversal. Hence, increasing the chances of XCH coin price reaching $250 before the end of 2021.
Chia Network (XCH) Price Prediction 2022
The technical analysis predicts the buying pressure to increase in 2022 and help drive the token price higher. Hence, buyers can expect the coin price to reach $400 by November 2022.
Chia Network (XCH) Price Prediction 2023
With the growing demand in the crypto-verse, the year 2023 will bring a hike in XCH coin prices. Hence, investors can start taking small quantity entries in the Chia Network. Furthermore, in 2023, the coin price may rise higher above the $550 mark.
Chia Network (XCH) Price Prediction 2024
Chia Network will reach the $750 mark by the end of October 2024. However, a short downfall by November 2024 can cause the coin price to hit the $700 mark. Hence, generating another buy-the-dip opportunity.
Chia Network (XCH) Price Prediction 2025
After recovering from the fall in November 2024, the XCH coin price will show phenomenal growth by June 2025 as it reaches the $850 mark. And by the end of 2025, the bull run will help the coin price reach the $1000 mark.
Chia Network (XCH) Price Prediction: Market Sentiment
Below you will find the price analysis of XCH Coin by different media outlets.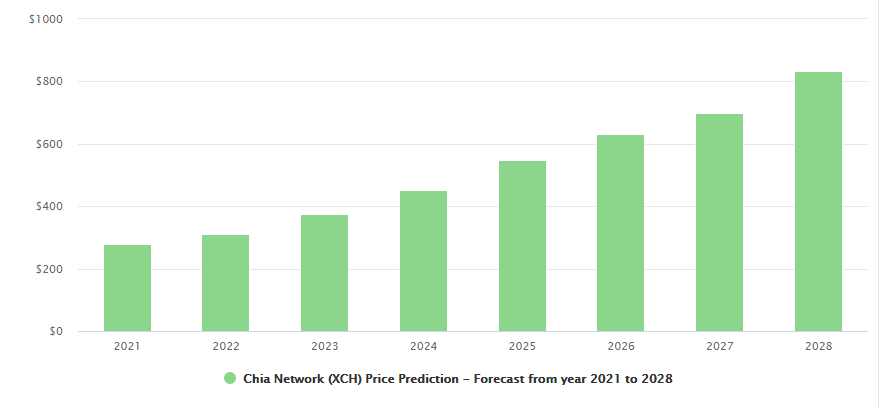 Digital Coin Price predicts the upcoming years of Chia Network's future will be bullish. The XCH coins will be worth $550 by 2026. A single XCH token will have a potential value of $830 in 2028.
Coin Arbitrage Bot takes a bullish side for the Chia Network. As per the site, the XCH coin price will reach $1000 by 2024. And, by 2025, it will be worth more than $1600.
Coins kid keeps a positive outlook for Chia Network. Coinskid expects growth in the XCH coin price over the next few years as it predicts the coin price will reach $700 by the end of 2025.
PricePrediction.net shares the bullish sentiments of various other media outlets. The site predicts a bull run in XCH coin price for the next few years. As per the forecast, Chia's token price will reach $90 by the end of 2025. And, by 2028, it will reach $3000.
Our Chia Network(XCH) Price Prediction
Chia Network is an open-source blockchain that allows smart contracts to be created and executed using a customized programming language called Chialisp.
Bram Cohen, the inventor of the BitTorrent network, created the project. Transactions were possible from May 3, 2021. On March 19, 2021, the mainnet was launched to reward farmers with farming rewards.
Chia's cryptocurrency relies on a revolutionary consensus mechanism called Proof-of-Space and Time. It secures the network and allows transactions to be verified.
The native token XCH serves as a reward for network participants who help secure its chain.
According to the Chia Network's Price Prediction 2021: The XCH coin will reach at least $200 in December 2021. In 2025 it may reach over $900, with hopes of getting $1000 later.
Chia isn't the first protocol that makes use of Proof of Space-like technologies. Storj, Burst, SIA, and Filecoin. Each of these solutions is unique, but Chia seeks to expand on Ethereum's network.
Chia recently created a smart contract programming system called Chialisp. It is used for building Chia's own DeFi apps, such as decentralized exchanges, as described by the CEO.
Bram Cohen continues to expand Chia Network. He recently hired five VPs in product development, sales, marketing, and product management. The company's goal is to make cryptocurrencies more user-friendly.
Social media platform price projections predict that the XCH cryptocurrency will be worth more than $900 by 2025.
Furthermore, the Chia Network predictions are incredibly bullish. Long-term projections for XCH crypto are optimistic, with the currency expected at $1000 in 2025.
---
Source
---
Back to the list