Back to the list
DeFi on Solana ($SOL) Sees Total Value Locked Near $13 Billion
www.cryptoglobe.com
22 October 2021 00:19, UTC
Reading time: ~2 m
---
The decentralized finance (DeFi) ecosystem on the Solana (SOL) blockchain has seen the total value locked get close to the $13 billion mark to hit a new all-time high as more users move to the blockchain because of its transactions speeds and lower fees.
According to DeFi data aggregator DefiLlama, as first reported by Decrypt, the total value locked on the Solana blockchain is now at $12.95 billion at press time, with a total of six projects having over $1 billion worth of cryptocurrencies locked within them.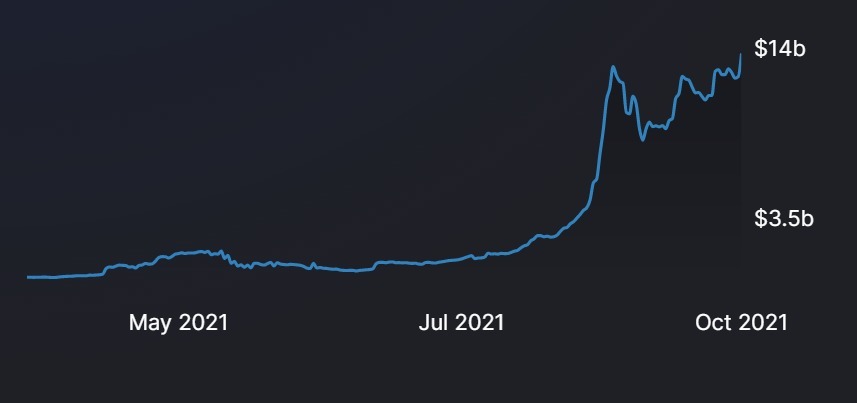 Total value locked, it's worth noting, is a metric often used to measure how much money is locked in the smart contracts of a specific blockchain or project. On the Solana ecosystem Raydium, a decentralized exchange, is currently in the lead with $1.81 billion locked in its smart contracts.
Notably the price of Solana's native cryptocurrency SOL has also been moving up. According to CryptoCompare data, it's up 17.3% in the last 24 hours and is now trading at $187. On Solana, just like on ETH, users need to pay for transaction fees using the network's native token.
Solana's new all-time high in total value locked is significant, although the network is still behind two other major competitors: Ethereum and the Binance Smart Chain. Ethereum's network has over $164 billion worth of cryptoassets locked in its smart contracts, while Binance Smart Chain has over $20 billion.
DeFiLlama's data currently tracks 268 projects on Ethereum and 130 on the Binance Smart Chain, and only just 26 on Solana. Behind SOL comes Terra's blockchain, with 8 projects being tracked and over $9 billion in total value locked.
As reported several analysts have been bullish on Solana over some time. Popular crypto trading and market analysis show Coin Bureau has published an update on realistic Q4 price targets for the native tokens of Solana earlier this month, predicting SOL will reach $300.
Cryptocurrency exchange FTX.US has even launched a marketplace for buying and selling Solana-powered non-fungible tokens (NFTs). TX.US's NFT marketplace allows its users to trade NFTs using either U.S. dollars (via "credit cards or funds brought in from an ACH bank transfer or wire transfer") or cryptocurrency ($SOL or $ETH).
---
Source
---
Back to the list