Back to the list
ALGO Technical Analysis: Price Breaks the Resistance Level of $2.30, Expect a Strong Upward Movement
cryptoknowmics.com
17 September 2021 08:49, UTC
Reading time: ~3 m
---
Algorand has a self-sustaining blockchain model that supports a variety of applications. It was developed in 2019 to reduce the transaction time as compared to older cryptocurrencies. It has lower transaction fees and does not require mining. Let us look at the technical analysis of ALGO.
Past Performance
On September 10, 2021, ALGO opened at $2.30. On September 16, 2021, ALGO closed at $2.04. Thus, in the past week, the ALGO price has decreased by approximately 11.39%. In the last 24 hours, ALGO has traded between $1.87-$2.82.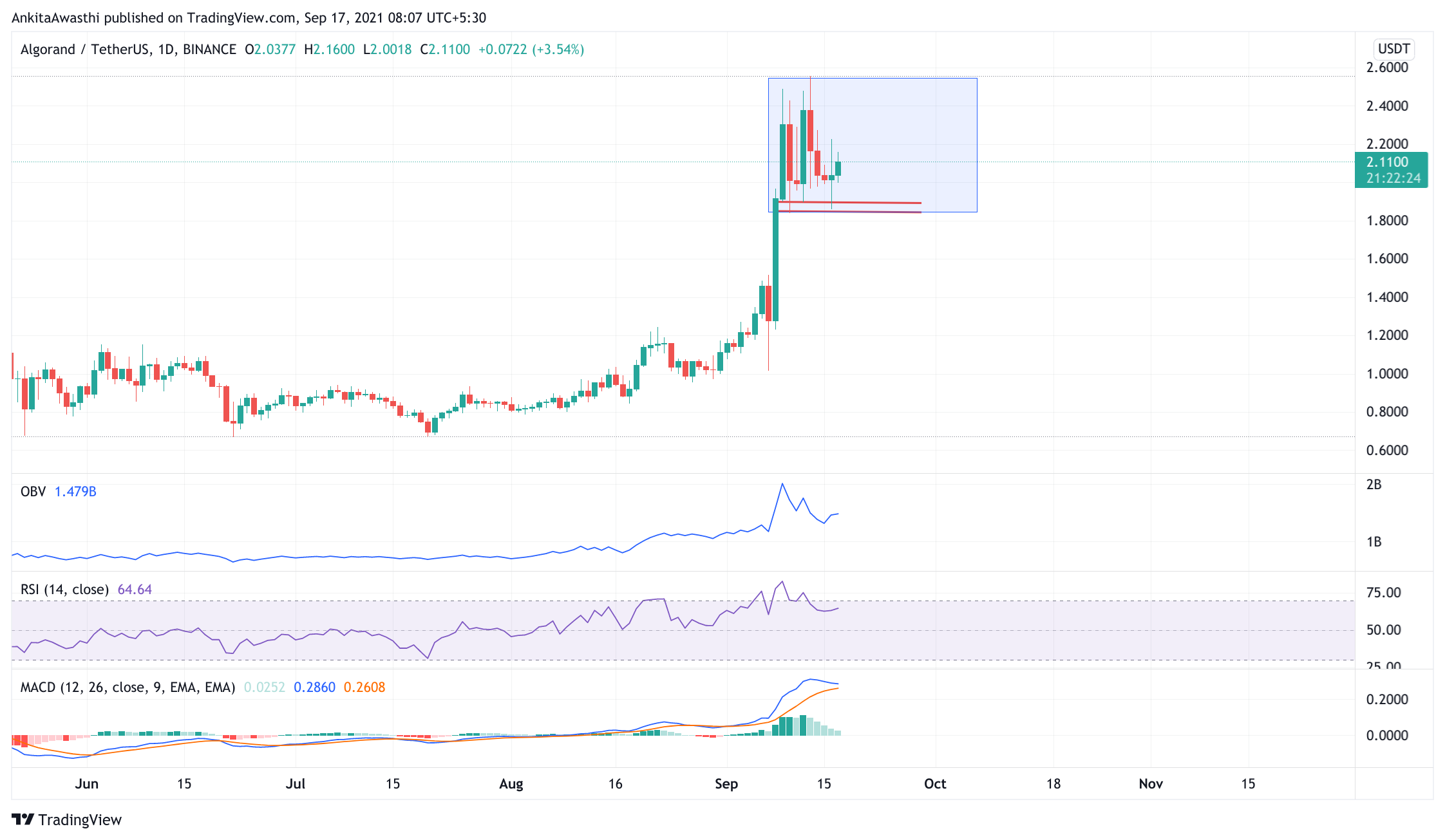 https://www.tradingview.com/x/UoRptCzL/
ALGO Technical Analysis
The price is currently trading in a rectangular range. The price range is $1.86 and $2.4. Since the volatility is high in the market, industry experts feel this is the last leg of the bull run. A bull trigger in Algo can help the price in breaking its upper range. Once the price breaks out of its upper range then it will unleash new highs.
However, the long-term support for Algo is at $1.80. To confirm the bear trend price will have to break down from this level.
Let us see what indicators are indicating for the rest of the day ahead:
At the time of writing, ALGO is trading at $2.09. The price has increased from the day's opening price. Thus, indicating a bullish day ahead.
The MACD is currently above the zero range, since the crash of 19th May. However, we can witness a bearish crossover on the horizon as the MACD line is about to cross over the Signal line, near the zero range.
Talking about the RSI indicator. It is at the 65% mark. It is constantly facing rejection from the 59% mark, which is acting as a strong support level. However, it is making a bullish divergence. Thus, buying pressures are slowly mounting.  We have to wait and watch if buying pressures become strong enough to bring about a fresh breakout.
In short, when we look at both oscillators, we can say that the price may continue to rise for the rest of the day. However, we cannot rule out the possibility of a trend reversal.
Day Ahead And Tomorrow
If the price breaks the resistance level of $2.30, then we can expect a strong up movement in the price. It will highlight the next resistance level of $2.50. Traders can take a long position accordingly.
Currently, it is trading below the second Fibonacci pivot point of $2.47. If the bears remain strong till day end, then the price is likely to fall below the first, and second support levels of $1.94, and $1.80 respectively.
Thereafter, we have to wait and watch if the price retests and breaks out of these levels. In that case, the price upswing is likely to continue tomorrow as well.
---
Source
---
Back to the list