Back to the list
KLAY Technical Analysis: Trading Close to Strong Resistance of $1.47 on the Daily Chart
cryptoknowmics.com
09 September 2021 12:29, UTC
Reading time: ~2 m
---
Klaytn, a public blockchain, was launched in June 2019. In order to convey the value of blockchain technology, a platform should provide an accessible user experience and development environment. Using an efficient hybrid design, the platform combines the benefits of both public blockchains (decentralization, distributed governance) and private blockchains (low latency, scalability). Let us look at the technical analysis of KLAY.
Past Performance 
On September 02, 2021, KLAY started trading at $1.65. As of September 08, 2021, the closing price of KLAY was $1.92. Thus, in the past week, the KLAY has been very less volatile. In the last 24 hours, KLAY has traded between $1.28-$1.42.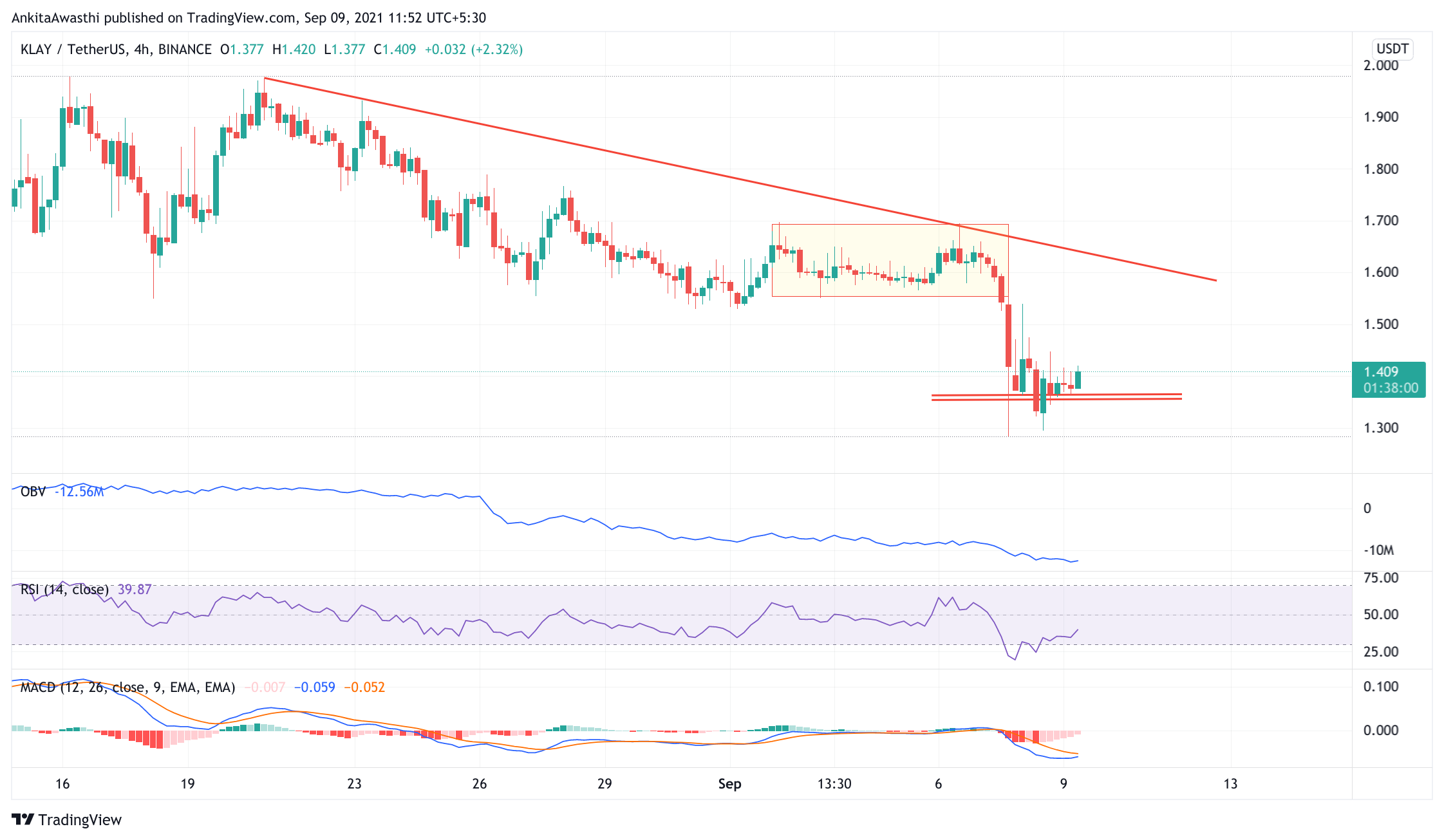 https://www.tradingview.com/x/ZzdX6KGb/
KLAY Technical Analysis
Recently, Klaytn has announced Klaytn 2.0, which aims at the global expansion of the current technology. This news has affected the price of KLAY positively. Klaytn has grabbed the attention of institutional investors like Humanspace, Wemade Tree, and Piction Network due to its versatility. However, a 15% shakedown has led to a major breakdown in the price.
On the four-hour chart, KLAY is in a downtrend. Traders are following the Sell-On-Rise concept. After the BTC shakedown, the trend of the coin has been shifted, and it is currently forming the base around the support zone.
However, after some consolidation, we can expect a breakout on the chart. A breakdown or a breakup will decide the future trend of the token. Let us see the reasoning:
Currently, the RSI is at 41.56%. After entering the oversold zone, the RSI has been constantly rising. Also, the RSI is currently near to its resistance level, therefore, after a short pullback, we can expect it to bounce back.
MACD and EMA are in the negative zone, suggesting a sell signal. However, we can witness a bullish crossover between the MACD lines. And, then we can expect the price to rise.
On the four-hour chart, the OBV is consolidating and getting ready to continue its upward trajectory.
Day-Ahead and Tomorrow 
The KLAY price is currently trading at $1.41, which is close to its strong resistance that is $1.47 on the daily chart. The breakout from this level will highlight the next resistance, which is $1.53. Traders can long the position after this resistance is broken, keeping a stop loss at $1.365.
However, on the other hand, if the price starts falling. The first support level that the price will test is $1.365, which is a crucial one. If the price breaks down from this support level, then traders can take a short position, keeping the next target of $1.293 and the stop loss at $1.406.
---
Source
---
Back to the list