Back to the list
Synthetix (SNX) and ThorChain (RUNE) Technical Analysis: Back to All-Time Highs?
cryptoknowmics.com
23 August 2021 12:19, UTC
Reading time: ~2 m
---
Synthetix and ThorChain buyers are firmly in control. As per SNX technical analysis, the token may reach $25. Meanwhile, ThorChain bulls are setting sight on $20.
Synthetix (SNX)
The Synthetix platform allows for trustless trading of derivatives using Synths, by using SNX for governance. At the time of writing, the protocol manages over $1.5 billion of synths.
Past Performance of SNX
Synthetix technical analysis reveals that SNX price has more than tripled after bottoming up from the daily chart.
SNX crypto bulls are in control and may breach the primary resistance level at $14.
At the time of writing, SNX is up six percent against the USD.
Day-Ahead and What to Expect
As long as SNX token prices are stable below $14, aggressive traders can begin to accumulate.
Synthetix token prices are still in consolidation inside a $9 zone with caps at $5 and $14 to the upside.
Although underlying momentum is strong, a close above $14 could spark more demand for SNX coin buyers. In a breakout, SNX crypto prices may reach $25.
Synthetix Technical Analysis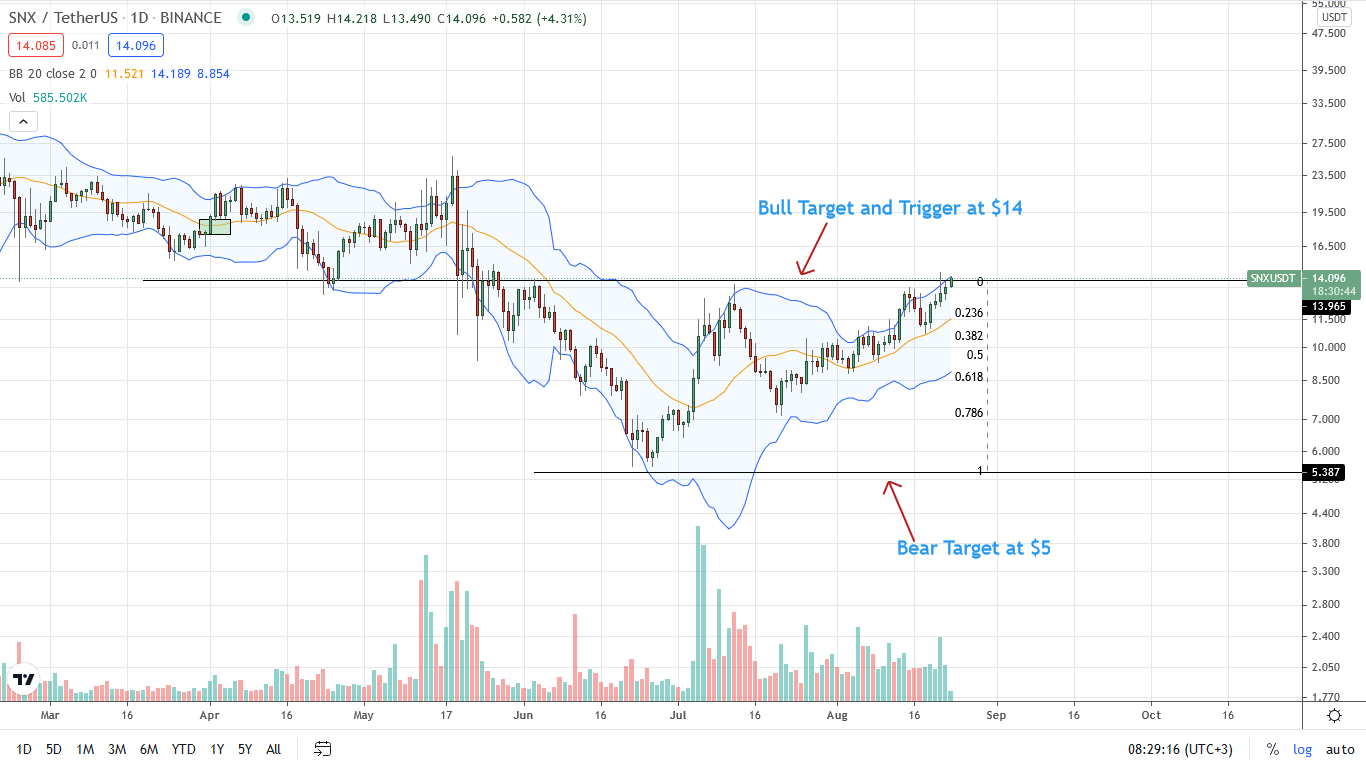 SNX technical analysis reveals strength. Aggressive SNX buyers may load on dips, expecting gains above $14.
If it does, risk-on Synthetix bulls may hop in while targeting at $25 in the medium term.
Conversely, a strong rejection from $14 could see SNX/USDT retrace below the middle BB to around $10.
ThorChain (RUNE)
The ThorChain project allows for cross-chain swapping of coins using RUNE for governance and network protection.
Past Performance of RUNE
ThorChain crypto buyers are firm.
For their participation, RUNE token prices have more than tripled at spot rates after bottoming in late July 2021.
At the time of writing, the ThorChain coin is up five percent versus the USD, trading in a bullish breakout pattern.
Day-Ahead and What to Expect
There is a notable spike in participation and price expansion over the weekend.
Accordingly, this could mean strength and confidence.
Therefore, as per the ThorChain technical analysis in the daily chart, RUNE coin traders can load the dips, expecting more gains towards $20.
ThorChain Technical Analysis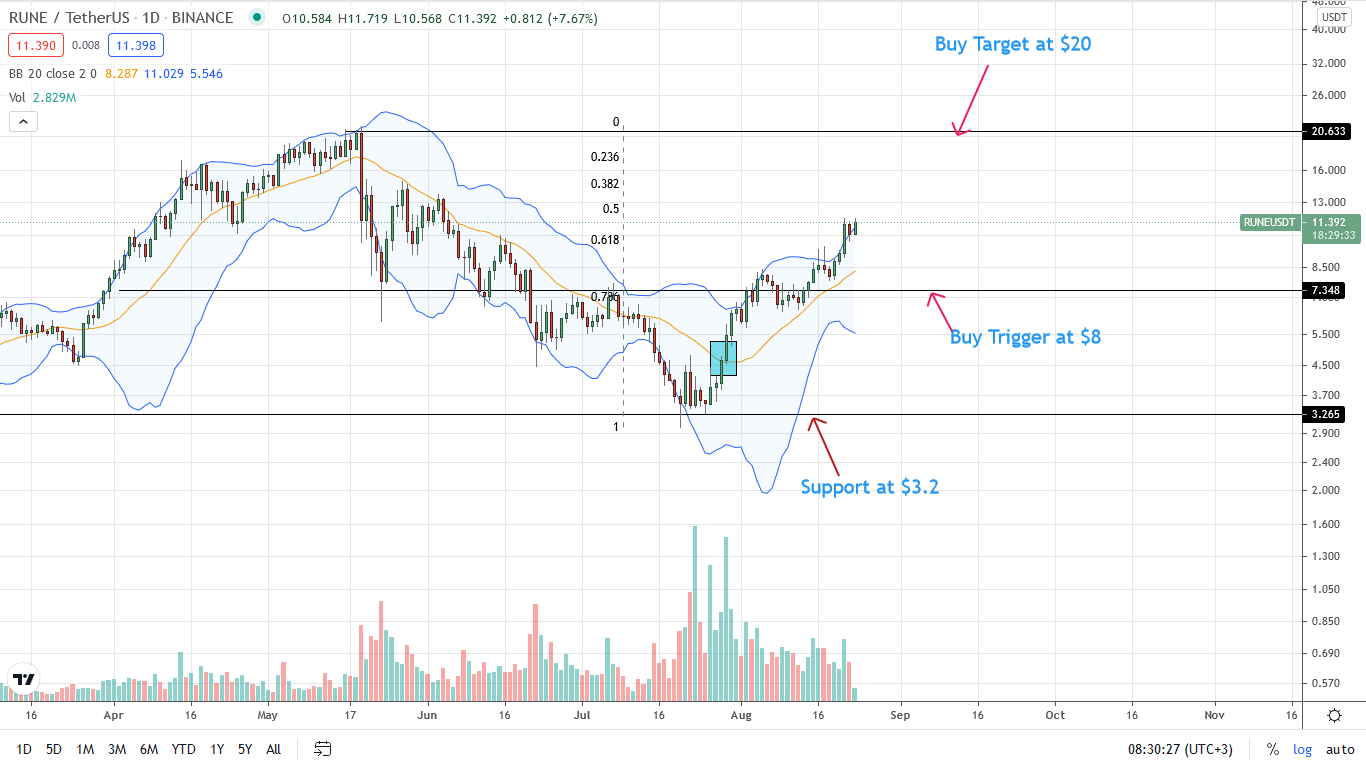 ThorChain crypto buyers are in control, trading in a bullish breakout pattern above $8.
As RUNE prices edge higher, banding along the upper BB, every low may offer a buying opportunity for ThorChain token bulls.
As it is, expected reaction points are at around $12 to $15.
However, sustained gains above this zone open up RUNE to $20—May 2021 highs.
---
Source
---
Back to the list