Back to the list
Up 10%: Cardano (ADA) Holders Can Now Store and Stake on Coinbase Custody
coinfomania.com
04 July 2020 04:00, UTC
Reading time: ~2 m
---
Charles Hoskinson, Cardano Founder and CEO of the blockchain research company, Input Output Hong Kong (IOHK), revealed in an update today that the company has partnered Coinbase Custody to allow investors to hold and stake Cardano (ADA) on the platform.
Hoskinson disclosed the news [Coinbase is yet to announce officially] as part of the project's ongoing Cardano Virtual Summit, which comes to an end today, July 3.
In the video update, the IOHK founder expressed admiration for Coinbase, revealing that IOHK had built a close relationship with the Coinbase team since 2019, as both parties worked towards to integration of Cardano (ADA).
Hoskinson then said:
Coinbase will become the custodian of IO Global's ADA. Our hope is that Coinbase can be the custodian of preference for many institutional holders of ADA and other people who have large amounts. Because we have a strong belief in the safety, security, and competency of that organization.
Being an original crypto gangster (OG), according to Hoskinson, also means that he has been in the crypto space long enough to see things like the infamous Mt. Gox and other numerous exchange security failures taking place every year.
"It's refreshing to see that there is an organization [Coinbase] that deeply cares about security, that deeply cares about quality experiences, and really gives people the time of day to work with them," Charles Hoskinson concluded in his round of praise for Coinbase.
Cardano (ADA) market outlook: bullish
News about Coinbase soon-to-be-launched institutional-grade custody and staking for Cardano (ADA), as well as, other positive announcements at the ongoing Cardano Virtual Summit, has led to a massive increase in the coin's price within the last 24-hours.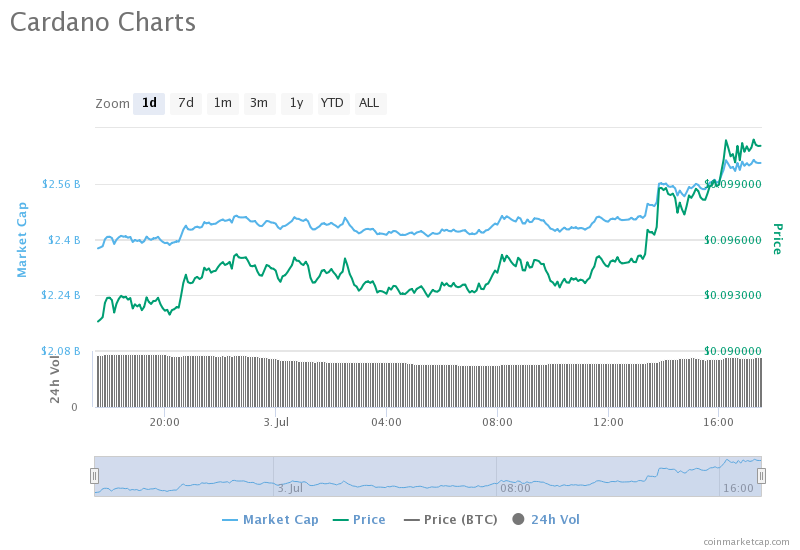 Cardano 24-hr Price Action (Source: CoinMarketCap)
ADA has claimed firmly within the top ten largest cryptocurrencies, boasting a market cap of $2.625 billion, just a little lower than seventh-place Litecoin. The coin was trading at $0.1 at the time of writing, representing a more 10% increase in the daily chart.
---
Source
---
Back to the list
Similar news