Back to the list
Solana Price Prediction 2021-2025
www.cryptopolitan.com
22 November 2021 07:20, UTC
Reading time: ~6 m
---
As the cryptocurrency market grows, Solana has become a favorite for crypto investors, with its inflows surpassing $50 million last month. Better still, the cryptocurrency has found its way into the list of the top ten digital assets.
The token dethroned Cardano and currently ranks number 5 on the market. Most of the analysts present a bullish forecasted Solana price.
This Solana (SOL) price prediction will look at what analysts predict for the Solana price in the coming months and years.
What is Solana?
Solana blockchain (also commonly referred to as Solana protocol) was introduced to compete with the Ethereum blockchain, which brought the current revolution, especially with its smart contract technology that has to go ahead to enable the inventions of decentralized finance (DeFi), Non-Fungible Tokens (NFTs), decentralized applications (DApps), and all the other concepts like yield farming, liquidity mining, staking, etc., that accompany these inventions.
Today Solana is fulfilling its purpose as more and more people continue adopting cryptocurrency. Its native token SOL is now priced at about $218, 43203.94%, up from its initial price at launch.
The blockchain revolution assured investors of digital coins that would offer privacy and confidentiality through the sturdy cryptographic algorithm that makes sure that even if transactions are recorded in the public blockchain network, the identity of the sender and the receiver is always hidden behind some addresses.
To that end, Solana is considered one of the most effective, secure, fast, and censor-resistant blockchains worldwide. It offers an open-source infrastructure making it easy for global adoption.
Solana (SOL) coin price history and recent performance
In 2021, Solana (SOL) token has become the fastest-growing cryptocurrency and is currently ranked at position five with a live market cap of $66.4 billion. It has overtaken the likes of the once-popular Dogecoin, DAI, DASH, Polkadot, VeChain, Eos, and many others. It is closely behind Binance Coin (BNB) and Tether (USDT).
This year (2021), the price of Solana (SOL) has appreciated by more than 43% in October to currently trade at $217.19 compared to $25.72, which was its price on January 1, 2021.
Solana crypto prices hit an all-time high of $260.06 on Nov 6, 2021.
It should be noted that while the likes of Bitcoin have been battling huge price swings throughout the year, Solana has maintained a bullish trend.
The inventors who find it hard to jump onto the Ethereum bandwagon due to the relatively more expensive ETH token are trying with the SOL token. And they have found it highly rosy in the last months.
Just like Ethereum, Solana is also involved with DeFi and NFT, which are currently the most sought-after services within the crypto space. For this significant reason, one should no longer wonder about Solana's increment in adoption worldwide. 
Currently, all eyes are on the support at $124.720 since it has already gone below the pivot level at $138.675.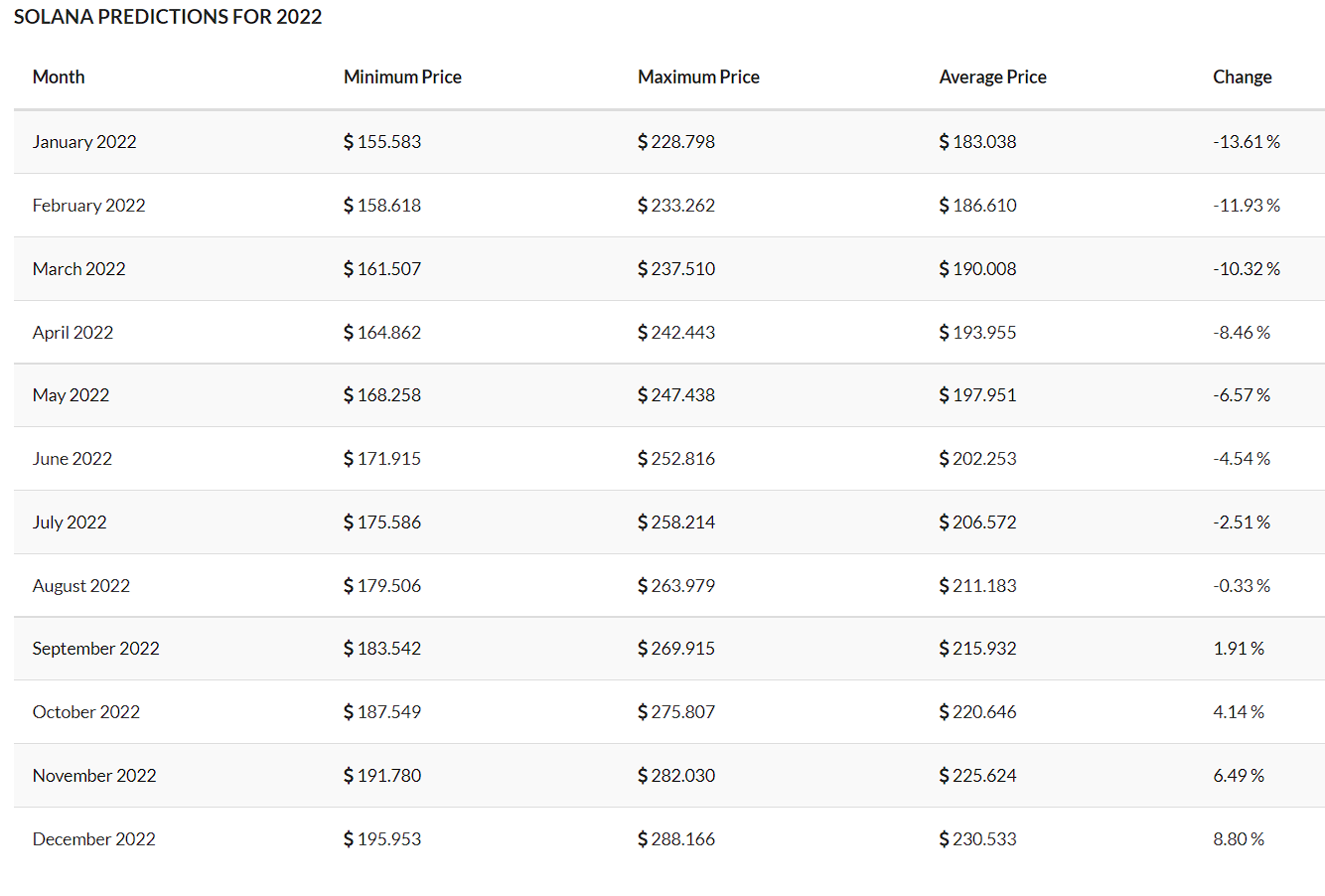 Although the above price predictions are different from those of other analysts like Walletinvestor, who predicts that Solana shall close 2022 at about $751.5, the fact of the matter is that all the analysts agree that the price of SOL token will increase. The question is, by how much?
Solana price forecast 2023
With the established features of being a fast and reliable blockchain network and the support for NFTs and DeFi, the future of cryptocurrencies, Solana is expected to continue with its bullish trend into 2023.
If the drive for NFTs and functional cryptocurrencies continues, Solana's price will likely close well above $200 in 2023. 
TradingBeasts forecasts that the price will close in 2023 at about $249.298 or somewhere between $366.615 and $293.292.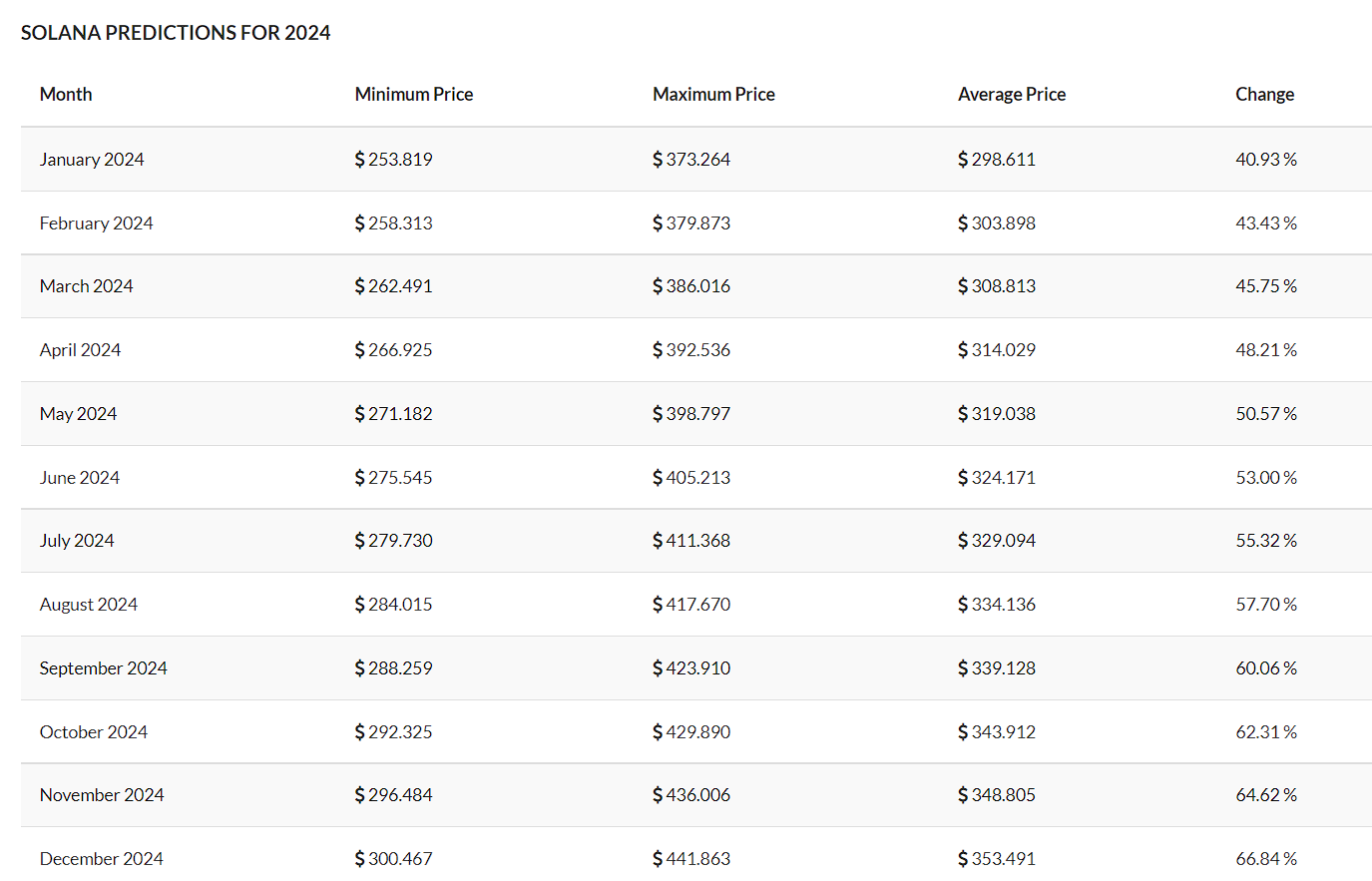 Other analysts predict that the cryptocurrency will be trading way higher than $200 by the end of 2024. Walletinvestor, for example, indicates that Solana shall be trading at a max of $2298.750 in December 2024.
Solana price prediction 2025
The future of cryptocurrencies is still unknown due to the ever-changing regulatory environment as governments find ways of regulating the industry, and Solana is not immune. However, just like Ethereum blockchain, which offers much more functionalities than just being a mode of processing payments, Solana has its chances of surviving even in the harshest of environments.
2025 could be a make or break year for most cryptocurrencies, and if factors remain constant, the price of Solana is expected to continue with its steady rise.
Wallet Investor, for example, forecasts that the SOL price shall be trading between $3046.040 and $1670.350 in 2025.
Conclusion
The above Solana price prediction sheds some light on what to expect with the price of SOL in the coming years. However, if you want to invest in Solana, you should consider seeking some investment advice to find out whether Solana is a good investment for you or not and at the same time be advised on how much you should invest.
If you are a trader, you will require some fundamental Solana price analysis and technical analysis of the crypto market to accurately speculate the price action concerning the resistance level, past price, trading volume, and average Solana price (average trading price).
It is also important to note that the above price prediction was made concerning the USD price prediction since the prices used are those of SOL against the US dollar. 
The Solana price predictions are best suited for an investor looking to invest in Solana's SOL (the SOL crypto) for purposes of holding or using the token within the Solana network (Solana ecosystem).
Therefore, the Solana forecast (Solana prediction) can be conducive to investors, including institutional investors.
FAQs
Where to buy Solana Crypto?
You can buy Solana on most cryptocurrency exchanges. Some of the exchanges where you can buy SOL tokens include Binance, Coinbase, and Kucoin, among others.
Where can I store my Solana coins?
Once you purchase SOL coins, you should store them in a secure place. Most of the exchanges where you can buy SOL offer in-built crypto exchange wallets. Other wallets that allow storage of SOL coins include the atomic wallet and Ledger hardware wallet.
Will Solana Price Crash in the future?
The price of Solana cryptocurrency crashed at the beginning of September 2021 due to a network outage, something that is extremely rare are most likely will never happen again in the future. 
Is Solana a Scam or Legit?
Solana is a legit blockchain network, just like other blockchains like Ethereum. As a result, the native token, the Solana coin, which is commonly referred to as SOL coin, is a legit cryptocurrency.
What blockchain projects are on Solana?
Solana has smart contracts functionality, and a blockchain developer can develop and deploy a decentralized application (DApp) on the blockchain. Several blockchain projects have been launched on Solana, and they have also contributed to Solana's fortunes. these blockchain projects include:
Solana Beach — a Solana blockchain explorer.
UPFI — a stablecoin.
Phantasia — a fantasy sports platform.
HydraSwap — a DEX.
CropperFinance — a yield farming service.
Disclaimer. The information provided is not trading advice. Cryptopolitan.com holds no liability for any investments made based on the information provided on this page. We strongly recommend independent research and/or consultation with a qualified professional before making any investment decisions.
---
Source
---
Back to the list