Back to the list
Chainlink Price Prediction 2021, 2023, 2025
www.cryptopolitan.com
20 November 2021 07:40, UTC
Reading time: ~13 m
---
As the world of cryptocurrencies continues to expand, new and interesting projects are emerging in an attempt to bridge the divide between the traditional world of finance with that of cryptocurrencies.
One such project is Chainlink (LINK) which is attempting to bring interoperability to the blockchain industry.
With the cryptocurrency sphere continuing to expand further, fresh and exciting projects keep budding in a bid to close the gap between the traditional financial system and that of digital assets. An example is ChainLink, whose primary value proposition is bringing interoperability to the blockchain sector.
Chainlink is primarily a decentralized oracle network that provides real-world data to smart contracts on the blockchain. Smart contracts are pre-specified agreements on the blockchain that evaluate information and automatically execute when certain conditions are met.
Interoperability allows two blockchain networks to exchange information and value without the need for intermediaries. Most popular blockchain projects such as Bitcoin, Ethereum, and Ripple have existed for a long time without communicating with each other.
Interoperability enables swift sharing of information, more straightforward execution of smart contracts, and exchanging blockchain solutions.
Chainlink's smart contract platform has made this a reality through its Oracle Network. In this article, we will unveil our Chainlink price prediction. It is imperative to know the future price before invest.
Before we check out the Chainlink price predictions, let us find out what Chainlink is?
What is Chainlink (LINK)?
Chainlink discovered how to feed in and obtain info from blockchain networks in a decentralized, dependable, and tamper-resistant manner.
Chainlink developed a network of nodes to exchange information between blockchains, which ultimately ended up being an important smart contract innovation.
As such, Chainlink oracles can share crucial information, including price feeds, the outcome of an event, and connect to traditional settlement methods in a decentralized but tamper-proof way.
In other words, Chainlink exists as a decentralized oracle network composed of data buyers and Chainlink node operators.
The buyers make an order for information, and the chainlink node operator delivers the info securely. The buyers choose the information they need to be supplied, and the vendors bid to do the supply.
The vendors must dedicate some LINK tokens to acquire if they violate the rules to make a bid. Once the vendors are picked, they are now tasked with giving the right answers through blockchain.
The information given is aggregated and weighed by an oracle reputation system developed by Chainlink. If the transaction is completed without problems, the vendors are paid both parties are satisfied.
Along with this, Chainlink Keepers is also now live, and ChainSafe has recently received huge funding from Chainlink Community Grant. The goal of this funding is to improve and advance the development of web3.js.

Chainlink Overview

Chainlink Overview
Coin
Symbol
Price
Marketcap
Change
Last 24h
Supply
Volume (24h)

LINK
$

28.48

$

13.31 B

4.97%

467.01 M
$

861.89 M

Chainlink Network & Signals
GALAXY SCORE
The Galaxy Score indicates how healthy a coin is by looking at combined performance indicators across markets and social engagement. Display the real-time Galaxy Score of any coin.
Where to buy Chainlink (LINK)?
To use Chainlink's oracle system, you need to have Chainlink's native token, LINK, as a payment means for the service. Chainlink network is built on the Ethereum network and utilizes ERC677, which obtained its efficacy from ERC 20 token standards and enables token transfer to comprise a data payload.
The ERC677 is also utilized for settlement with a Chainlink node operator who supplies and feeds data into the network, paid by the buyers. The vendors decide the cost of the service after bidding.
Many investors are wondering where to buy the token Chainlink? Apart from earning Chainlink tokens by participating as an oracle or a node operator, they can also be acquired from a cryptocurrency exchange.
Top crypto exchange platforms such as Binance, Coinbase, and Gemini allow individuals to buy LINK using fiat currency via a credit card or debit card, bank transfer, etc. LINK tokens can be securely stored in a hardware wallet.
Technical analysis of Chainlink (LINK) at the moment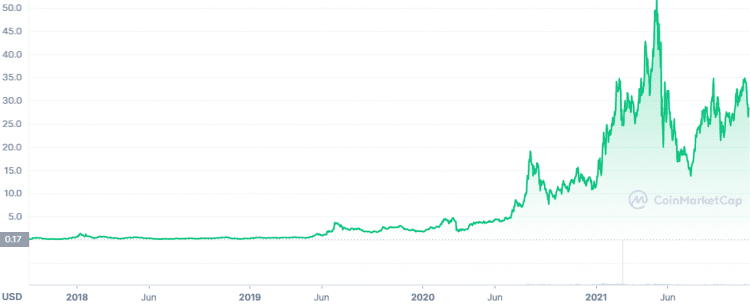 The year 2018 began with a strong bullish rally, and most digital assets were at their summit. Chainlink token was not an exception. However, what followed after that was a sharp freefall in the altcoins market, which resulted in billions of dollars being wiped out of the market.
We are currently witnessing a somewhat similar situation. Most of the altcoins are currently at one-half to one-fourth of their all-time high.
There are not many altcoin projects that managed to survive the famous crypto winter season. Some altcoins like Ethereum price and Chainlink price managed to endure the dark moment, and their price began rising.
2019 was a very significant year for Chainlink. Its token LINK was performing very impressively in the market. The performance is heavily associated with the inception of the pioneering DApps on the Chainlink network and listing by a few crypto exchanges such as Bitbox the previous year.
This drove the LINK price from $0.3 at the beginning of the year to a record $1.13 by May 2019. The oracle coin broke its ATH twice more that year, and on June 24, 2019, LINK's price reached a record $4.540. The bullish rally was heavily driven by the release of the Chainlink network on the Ethereum main network.
In 2020, the Chainlink project emerged as the top performer of all cryptocurrencies beating significant cryptocurrencies like Bitcoin and Ethereum for the second year in a row. Bitcoin price The massive rally was heavily connected to the 2020 DeFi craze.
LINK began the year trading at around $1.70 and hiked towards $4.570 in February. LINK remained quiet until mid-July when the LINK price rallied towards a new ATH at $8.40. The rally continued, and Chainlink digital asset price almost hit $20 but faced rejection and pulled back to under $12.
In 2021, Chainlink price enjoyed a strong bull run as wave-like bullish activity caused the price to rise from the $12.00 mark to the recent highs of $36.00.
Chainlink price faced strong resistance at the $36 mark, which it could not break through and ended up being rejected from the level. The rejection caused the price to fall to the $23.50 mark before the price bounced back to the $30 support level.
Afterward, in the month of May, the coin reached its all-time high of $52.88, and from thereon, it started to fall. The fall in the price of coins was followed by the fall in the price of Bitcoin. The coin kept falling, and eventually, it is now trading above $30.
Chainlink price prediction 2021-2023
The current price of Chainlink is indeed very low from its all-time high, and if the similar bearish drop continues, we will see the coin continue making lower lows.
This is only possible when the price of BTC goes below $50K, but it seems that the bears have given up, and it is possible that the market continues the bull run. 
Making cryptocurrency price predictions can be a challenging task, given the explosiveness of the market. The cryptocurrency market has established a reputation of being notoriously volatile. In mind, it is essential to note that these price predictions are pure speculations, and it is impossible to predict the market precisely.
We have adopted various methods to establish predictions, such as statistical analysis, application of new tech such as deep learning, and analyzing the historical price movements.
Chainlink's price action started the year positively, trading at $11.45 on January 1, and it has made tremendous strides ever since. We have a couple of Chainlink coin price predictions, which we have carefully analyzed. Here they are:
Wallet Investor Chainlink forecast
According to Wallet Investor, LINK is an excellent annual investment. Chainlink prices can rise from hereon, and a price of $52.5 is expected by the mid of 2022. The oracle coin has the possibility of rallying towards $125.8 five years from now, as per the analyst. The interoperability project has attracted a lot of interest lately.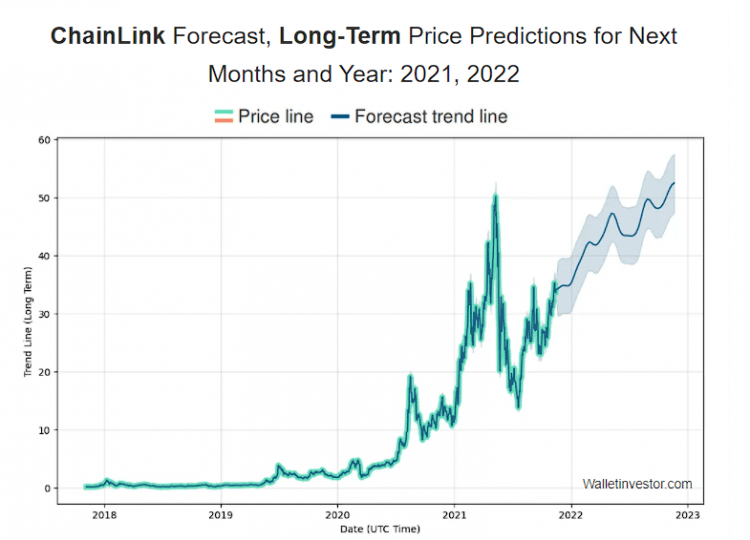 Digital Coin Chainlink forecast
According to Digital Coin, Chainlink has a high probability of growth. According to the prediction, the coin will reach a minimum of around $47.97 in 2022, and thereafter, it will trade at $60.75 in 2023.
In 7 years, it is expected that the coin will reach a minimum of around $123.57 due to its popularity and adoption rate.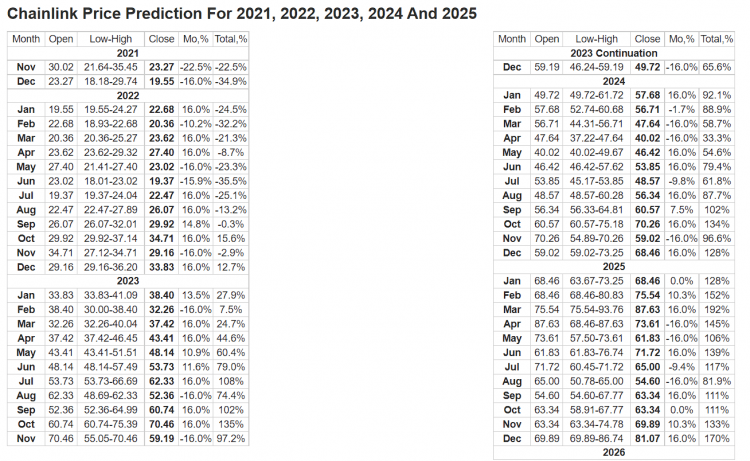 Chainlink's price prediction indicates that it will be close at $29.16-$36.20 in the year 2022. In 2024 December, Longforecast expects Chainlink to close the month of October 2025 at a maximum price of $63.34.
Chainlink Price prediction 2025
Most people are wondering about the future outlook of Chainlink now that the oracle is in demand for the creation of Ethereum DApps. Chainlink price prediction 2025 suggests that Chainlink crypto will maintain its bullish trend above the $10 price level through 2021 and rally towards $60 over the next five years.
With oracle projects rising in demand, early movers such as Chainlink are expected to perform superbly in the cryptocurrency sector.
The crypto market largely depends on Bitcoin price movement. As such, most experts think that Chainlink price prediction 2025 will hugely rely on the Bitcoin price. However, the fact is LINK is diverting away from the trail set by the world's number one crypto.
With the coin's future outlook unclear, the market will possibly calm down, recording slow price swings. Nevertheless, the cryptocurrency price depends entirely on the developer's activity, innovations, and future collaborations.
As long as the Chainlink team keeps extending its user base and forming new collaborations, Chainlink will remain relevant in the industry and edge out the competition. This would possibly drive the value of LINK x100 of its current worth.
According to Longforecast, the Chainlink price will rest in the range of $69.89-$86.74 in 2025.
Chainlink future outlook – will Chainlink succeed?
Even though Chainlink was developed on Ethereum, their oracle services can also be used on different blockchains such as Hyperledger and Bitcoin. The two primary goals to guarantee secure interoperability are the dispersion of data feeds and oracles.
Chainlink aims to add more participants to grow more powerful and appreciate, amplifying their network influence like all blockchain networks. As such, Chainlink's plans range from creating more high-profile collaborations, advocating for increased knowledge dissemination, events, and connections.
Besides, the Chainlink project aims to hasten smart contracts proliferation as the leading digital settlement mode by enabling them to communicate with Defi protocols.
Up to this day, the oracle project has registered a total of 315 projects, consisting of 77 blockchain, 98 in decentralized finance, 23 in data providers, and 44 nodes.
On February 16, 2021, ground-breaking decentralized finance (DeFi) gaming protocol AnRKey X launched a new main network linked to the most famous oracle in the blockchain industry.
AnRKey X will use Chainlink's Verifiable Random Function (VRF) to randomly choose the winners of AnRKey X's Rare and APY power boosted Non-Fungible Tokens (NFTs).
Chainlink VRF is a probably fair and verifiable source of randomness designed for smart contracts.
With Chainlink slowly penetrating the multi-billion dollar gaming arena by bringing a fair price dissemination system to the advantage of all the participants, it may switch gamer demand to verifiable and decentralized sources.
Is Chainlink a worthy investment?
Most cryptocurrency investors and lovers frequently ask themselves whether to buy Chainlink. This is understandable given the fact that three years ago, Chainlink was not even among the top 100 cryptocurrencies by market capitalization.
Today Chainlink is ranked as the 13th largest cryptocurrency by market cap with over $4.5 billion. The altcoin will most probably maintain that upside momentum.
The cryptocurrency market is characterized by high volatility, which makes it difficult to foretell the market precisely.
Additionally, the swift growth of Chainlink through 2019 and 2020 may discourage some investors who think the possibility of a further rally is minimal following that growth.
Most analysts believe Link token price will rise to astronomical levels such as $100 and $200. Others go even as far as predicting that the LINK price will reach $1000 in the future. How reasonable is this?
For starters, Chainlink is presently an asymmetric investment opportunity, which means the upside potential of the LINK token is more than the downside, irrespective of the general market condition. This is primarily possible through the type of services or products you offer.
Chainlink has established itself as a critical component in the cryptocurrency space. With more and more DeFi projects budding up, the demand for Chainlink services will continue rising, driving the price of LINK.
Chainlink 2.0 whitepaper has gained a lot of popularity since its release in the month of April that has the goal to build off-chain networks on top of the Oracle platform.
Another crucial factor that could potentially drive LINK is the recently executed LINK staking feature. More LINK tokens will be eventually staked, which will positively influence its value.
Chainlink has been a very sound investment from a technical analysis perspective regardless of its Relative Strength Index, finding itself in overbought situations on several occasions.
Chainlink's native token continued surging upwards to the surprise of many traders and experts.
With that said, is Chainlink a good investment through 2021 and beyond? Historical price data suggests so. The most logical answer is yes because Chainlink cryptocurrency is definitely worth it.
Even though it is impossible to foretell the prices, LINK will hit in the future because there are various other factors that determine market conditions.
As mentioned earlier, the LINK price prediction of $100 and $200 is quite realistic during a bull market.
This volatility has come as Chainlink decouples from the price action is seen by Bitcoin and the aggregated crypto market, which is a positive technical development for the time being.
Analysts are now widely noting that the cryptocurrency may be positioned to see significant further upside in the near future.
What determines market conditions? As mentioned earlier, the LINK price prediction of $100 and $200 is quite realistic for having this moving average during a bull sentiment.
What value will Chainlink reach?
Chainlink is currently ranked the 15th largest cryptocurrency, and the position is well deserved. The oracle blockchain is a legitimate cryptocurrency project boasting a vast and dedicated community.
Chainlink was the first one to take advantage of the multi-billion dollar blockchain interoperability industry, establishing itself as the leading and most dependable oracle service provider in that particular sector.
Despite its mixed development, Chainlink still possesses substantial bullish potential. Both fundamental aspects and technical analysis point out higher-price possibilities for Chainlink to establish new partnerships regularly.
Chainlink also boasts a large social media community that is very dedicated. Its social media presence has vastly increased as the LINK's price continued soaring higher last year.
Although the social media metric is not a standard method of weighing a crypto's trend, it could suggest an expanding community and strengthening crypto sentiment.
Can Chainlink reach $1000?
The cryptocurrency industry is still in its early stages, especially when compared to the traditional financial market.
However, as the industry progresses and the technology evolves, it's possible that projects like Chainlink could see exponential growth.
For now, though, considering the current Chainlink price of $25, it's not feasible to expect Chainlink to cross $1,000 USD any time soon.
Verdict
Overall, the Chainlink blockchain seems to be a great project with a great deal of potential. Its impressive technology makes it possible for different blockchains to communicate and share data, which plays a substantial role in the blockchain sector.
Chainlink aims to create a self-reliant and tamper-proof ecosystem by connecting real-world data with blockchain technology. It is essential to bear in mind that even though LINK has high upside potential, it is still a risky investment opportunity with the potential to shed its gains.
Never invest more than you can lose regardless of the market sentiment flashing a strong buy. As in the ethereum price prediction, a piece of good investment advice would be to buy virtual currency with bullish momentum.
While Chainlink price prediction websites can offer differing opinions, Chainlink (LINK) looks as if it's ultimately a good project with a dedicated development team.
Between the growing list of partners and the project's impressive growth and use of China's own BSN, LINK presents itself as a coin with a bright future, which many predictions seem to mirror.
All in all, LINK appears to be a strong buy.
Disclaimer. The information provided is not trading advice. Cryptopolitan.com holds no liability for any investments made based on the information provided on this page. We strongly recommend independent research and/or consultation with a qualified professional before making any investment decisions.
---
Source
---
Back to the list