Back to the list
Disney halts Justin Sun's attempt to trademark "TRON"
decrypt.co
21 December 2019 14:00, UTC
Reading time: ~5 m
---
Disney has prevented blockchain platform Tron from getting its hands on three trademarks, according to the US Patent and Trademark Office. On November 6, the applications, including one for "TRON," were rejected, after Disney claimed the trademarks would damage its brand and no response was made.
Tron CEO Justin Sun is a billionaire Chinese entrepreneur known for paying $4.6 million for lunch with Warren Buffet, only to turn it down, reportedly under pressure from the Chinese government. He raised $70 million in an ICO for the TRON (TRX) cryptocurrency in September, 2017, and has spent millions trying to attract other developers to the project, in order to gain mainstream appeal in the West.
Tron CEO Justin Sun drops $4.6 million on private lunch with Warren Buffett
The three trademarks in question are variations of the Tron name, which it has used to brand its decentralized project over the past two years. The rejection of the three trademarks will serve as a major loss for the project, which Sun had hoped would be the fourth largest platform by the end of this year, when instead it has fallen to twelfth place.
Tron doesn't put up a fight
Back in February 2018, Tron Foundation's China partner Raybo Technology applied to trademark the words, "TRON," "TRONNETWORK" and "TRONIX." Raybo Technology has worked with the Tron Foundation on handing out $30 million of tokens on the Tron platform and police had to intervene earlier this year when protestors blamed it for not separating itself from a Ponzi scheme—bearing the same name as the Chinese name for Tron, "Wave Field"—that lost investors $30 million.
But when Raybo Technology published the trademarks for opposition in the Trademark Official Gazette in April 2019—a public record of all trademark applications designed to give time for trademark owners to dispute them—Disney swiftly issued an objection.
On August 6, Disney filed a Notice of Opposition professing that it owns a longstanding trademark for, among other things, the word "TRON"—due to the sci-fi franchise of the same name. Its lawyers argued that Disney "believes that it [its own trademark] is being damaged, and will be damaged, by the registrations."
Not only was it the use of the same characters, but Disney pointed out that Tron had been capitalizing the word too—making it even more similar to its own trademarks. The application said Tron had used the "TRON Marks in all capital letters in a font/stylization that is highly similar in appearance to the unique and distinctive font/stylization of [Disney's] TRON Marks," evidence that TRON had been riding off of Disney's trademark "in faith off the goodwill of [Disney] and its famous brands." It wasn't hard for Disney to find offending examples either, it simply took screenshots from the Tron website.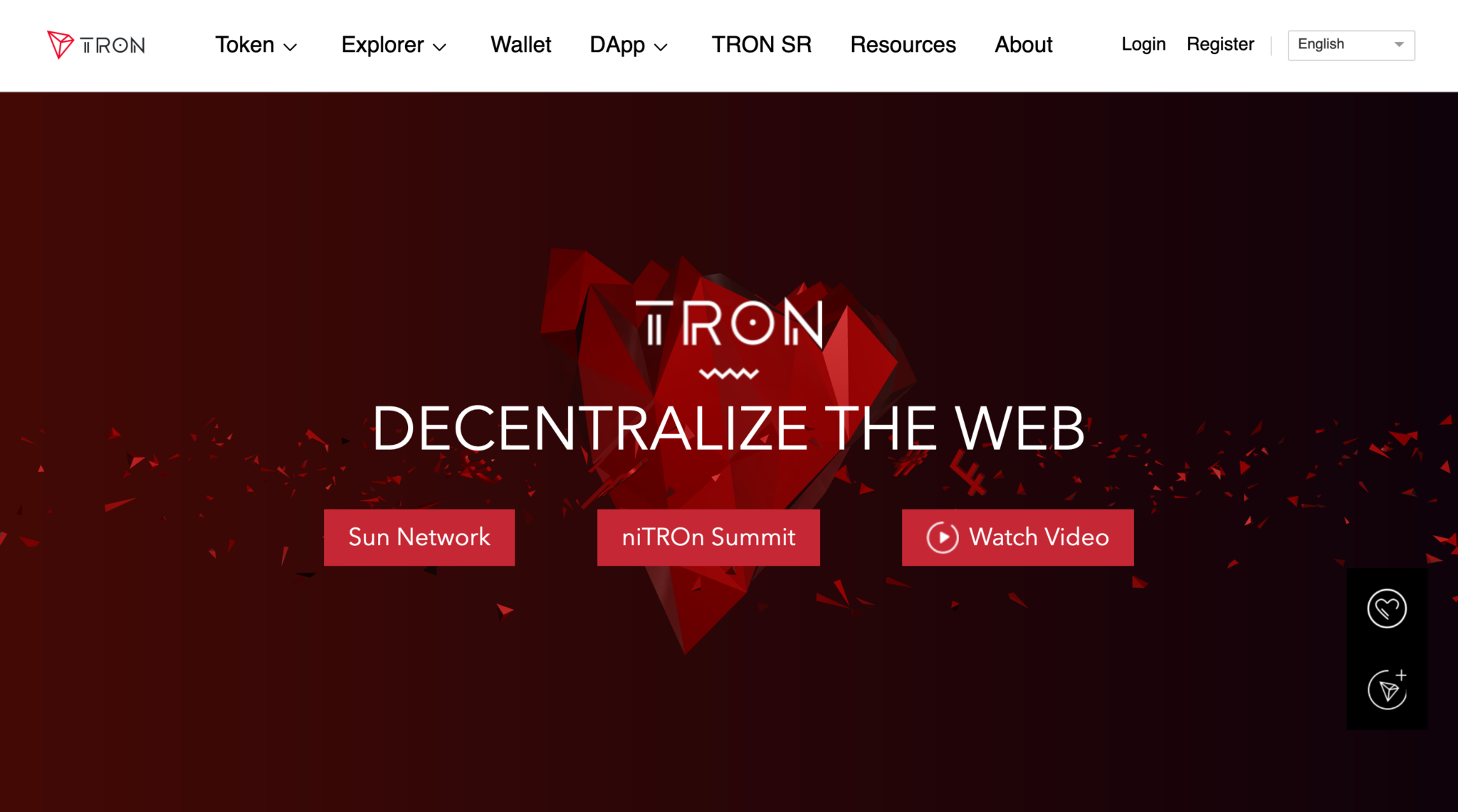 Disney argued that the blockchain company was creating confusion over Disney's own brand, which it has been pushing for over 35 years. Customers seeking movies, theme parks and "enormously successful arcade games and video games" might find themselves diverted to Justin Sun's project instead.
After the notice was filed, Raybo Technology had time to respond but nothing was filed. As a result, the patent office acknowledged that there had been no answer to Disney's opposition and rejected all three applications.
Jake Chervinsky, counsel at Compound, told Decrypt, "Tron clearly didn't take the trademark registration process seriously. They never hired U.S. counsel to represent them, even though the USPTO explicitly ordered them to do so. They also didn't respond to the USPTO's notice of default, meaning they gave up on their trademark attempt completely."
He added, "There's nothing wrong with deciding to abandon a trademark application when confronted with a vigorous defense like the one Disney was clearly prepared to mount, but the respectful way to handle this situation is to withdraw the application, not to simply ignore the USPTO."
However, it might not be all bad for Tron. Raybo Technology already has nine trademarks in China, including ones for "Tron," "TRX" and "Tronix," with multiple other trademarks pending approval. Beyond the Tron brand, it is focusing on applications for the word "Coinplay," the name of a company the Tron Foundation acquired back in March and those related to BitTorrent, a file sharing platform it bought in June, 2018.
A blow for Justin Sun
On the news, market commentators said that the trademark applications were ambitious anyway, given Disney's pre-existing trademarks, but that it could spell further trouble down the road for Tron.
Peter McCormack, host of the "What Bitcoin Did" podcast, told Decrypt, "The news is unsurprising really as Disney aggressively protects their IP. The Tron film franchise remains a unique brand whereas the Tron blockchain has credibility issues." He said he was here referring to Justin Sun's failures to meet a number of promises, such as advertising partnerships that don't exist and his claim to have kidney stones, which was later debunked.
Justin Sun's credibility problem
Tor Bair, head of growth at Enigma said, "Projects and companies in the blockchain space may like to imagine they build and work in a parallel universe, but the real world isn't going anywhere. This is just one more example of how challenging it is for even the most ambitious projects to gain mainstream recognition."
When looking at the documents, several commentators pondered why Raybo Technology didn't even attempt to respond to the Notice of Opposition or the Notice of Default—the two main stages of the process. The documents show that it was given time to respond and failed to do so in either case.
On this, Mati Greenspan, CEO at Quantum Economics and former eToro senior market analyst, said, "To be fair, Disney probably has a better claim to the name Tron. I wouldn't be surprised if the reason they let it lapse was simply because they had no case to begin with—perhaps they were just trying their luck."
Even more, Greenspan considered that Disney may seek to stop Tron's use of the word "Tron." He said, "If Disney does decide to prosecute they may need to change their name. Not sure that this would affect the price at all but it wouldn't be great for their posterity."
---
Source
---
Back to the list
Similar news