Back to the list
Propy (PRO) Surges 150% in a Week, While Mainstream Coins Drops
thenewscrypto.com
09 September 2021 12:41, UTC
Reading time: ~2 m
---
Despite the fact that the leading cryptocurrencies began the bearish war in the crypto market, PRO has outperformed the trend. In fact, most altcoins are falling in value, mirroring the trend of mainstream cryptocurrencies. But there are some altcoins that outperforms the scenario with their advancements in their network.
Significantly, in the last few years, the world has undergone a massive transformation. Technology advancements are flawless, and both large entities and users have embraced modern technology. Furthermore, the blockchain technology used in the industry has grown exponentially in the last two years. Likewise, smart contracts have also grabbed the attention of users in recent times.
Propy is a global online real estate store that connects buyers, brokers, sellers, and escrow/notaries/title agents through the use of smart contracts to facilitate transactions. Moreover, Propy offers automated real estate transaction processes in a faster, easier, and more secure way.
Current Market Status
At the time of writing, the trading price of Propy (PRO) is $0.66 with a trading volume of $1,854,563 in the last 24-hours. According to Coinmarketcap, PRO has surged nearly 150% within a week and holds 544th rank. Moreover, it has a circulating supply of 70,850,406 PRO coins.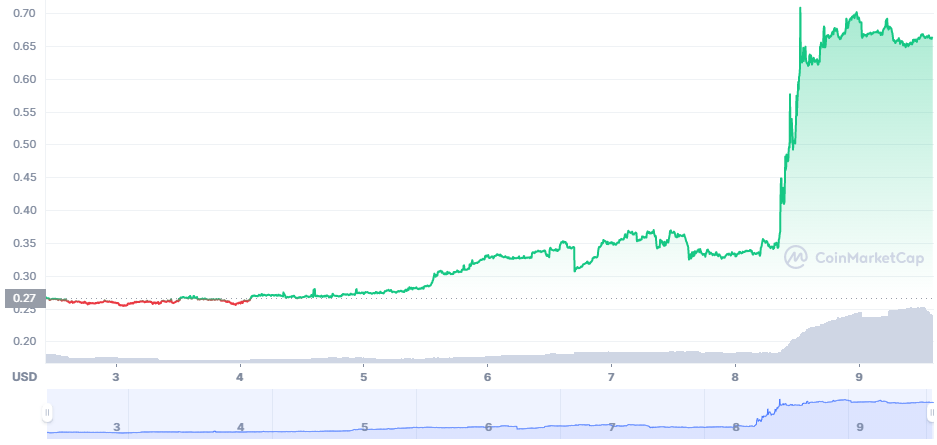 The chart depicts the bullish trend over the past week. The price of PRO has surged from $0.24 to $0.70 within seven days and it has soared to 96.64% in the last 24-hours. It is available to trade in top exchanges like Huobi Global, HitBTC, Huobi Korea, and 1inch Exchange. 
Intro To Crypto & Blockchain For Real Estate
On September 8, the co-founder of Propy described crypto for house buying in the company's weekly webinar. The seminar was titled "Intro to Crypto & Blockchain for Real Estate," which means that the platform allows users to use crypto and blockchain for real estate. Furthermore, the platform supports NFTS, which allows customers to convert their homes to NFTs and auction them off.
Considering the recent updates, the new ideologies from the Propy platform might be the reason for PRO's price surge. The network has more updates on its developments, which may pique the interest of users. However, users anticipate more highs in the future due to the unique features that Propy implements in real-time.
---
Source
---
Back to the list