TRON TRX Surges Amid Opera Partnership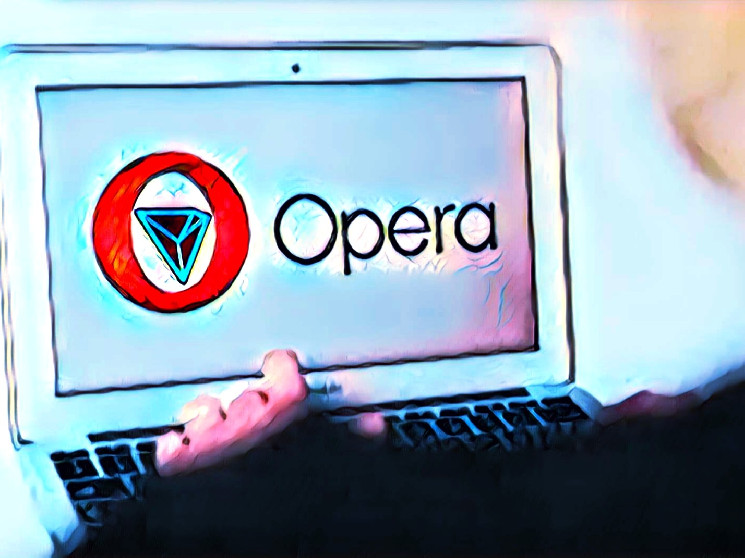 www.investinblockchain.com
2019-05-16 17:53
Reading time: ~4 m
---
Tron has seen a wonderful price surge totaling over 25% in the past 7 days, bringing the cryptocurrency above the $0.029 price level. The recent price surge was largely due to a partnership announcement with Opera, a web browser with hundreds of millions of users.

Opera has recently announced that the first cryptocurrency they will begin to support on their browser will be Tron. Opera intends to natively support multiple blockchains on their platform after Tron. The Tron Foundation responded to the announcement with the following tweet:
The first browser with Web 3 capabilities, @opera, is announcing its intention to support #TRX and other #TRC-standard tokens. Opera's Crypto Wallet will allow hundreds of millions of users to play #TRON games and access TRON #DApps within the browser. https://t.co/HumUmfKALF

— TRON Foundation (@Tronfoundation) May 15, 2019
This is exciting news for Tron holders, as it will allow users to access Tron dapps and transact with the Tron token on the Opera platform. Furthermore, the native wallet within the Opera browser will also support all TRC standard tokens such as BTT (BitTorrent Token).
Tron remains ranked in 11th position amongst the top cryptocurrency projects by market cap value, as it holds a $1.97 billion market cap. For Tron to break back into the top 10 projects, it will need to increase its market cap by a total of $370 million to catch up with the 10th position holder, Cardano.
After a decent price surge during December 2018, Tron has been relatively lackluster over the past few months, with its price hovering largely around the 100-day moving average. However, the recent price surge has allowed Tron to re-test the 2019 highs and position itself to travel further.
Let us take a look at the TRX/USD market over the recent period and highlight some areas of support an resistance moving forward.
Tron Price Analysis
TRX/USD – MEDIUM TERM  – DAILY CHART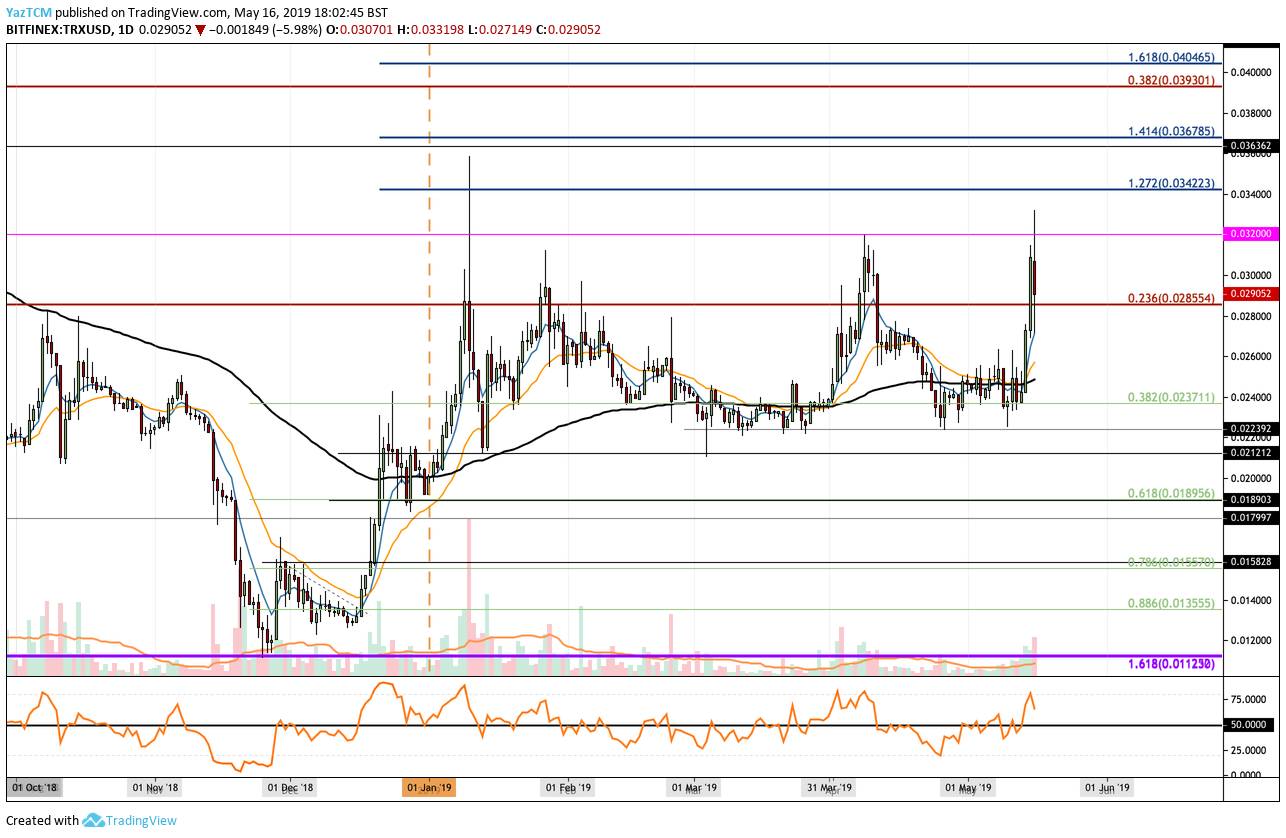 What Has Been Going On?
Tron has recently surged above the 100-day moving average to retest the April 2019 high at around $0.032. We can see that Tron managed to penetrate slightly above to reach a high of around $0.03318, but has since dropped back beneath $0.032.
After surging during December 2018, the Tron market has largely been trapped in a trading range between $0.032 and $0.0212.
What Is the Current Short-Term Trend?
The current short-term trend remains neutral at this point. For this market to turn bullish, we would need to see a clean break and close above the $0.032 level. If price action was to drop beneath the $0.0212 level, we could then consider the market as being bearish.
Where Can We Go From Here?
If the buyers manage to continue to climb higher above the $0.032 resistance level, we can expect immediate higher resistance above to be located at a medium-termed 1.272 Fibonacci Extension level (drawn in blue), priced at $0.03422. Above this, further resistance can then be found at the $0.03636 level and then at the 1.414 Fibonacci Extension level (drawn in blue), priced at $0.03678.
Above $0.037, further resistance higher is then located at the long-term bearish .382 Fibonacci Retracement level (drawn in red), priced at $0.039. This bearish Fibonacci Retracement level is measured from May 2018 to December 2018. This resistance is closely followed with more at the 1.618 Fibonacci Extension level (drawn in blue), priced at $0.040.
What If the Sellers Regain Control?
Alternatively, if the sellers regroup and begin to push the market lower, we can expect immediate support beneath at the $0.02855 level. Beneath $0.028, more support is then located at $0.026 and then at the 100-day moving average level which hovers around $0.025.
Beneath $0.025, more support lies at $).02371, $0.02240, and $0.0212.
What Are the Technical Indicators Showing?
The RSI has recently turned away from overbought conditions which is a good sign for the bulls as it shows they are not exhausted. If the RSI can continue to remain above the 50 level, this indicates that the bulls are in charge of the market momentum.
---
Source