There are three compelling reasons why a spot Bitcoin Exchange Traded Fund (ETF) approval really matters, crypto index fund manager Bitwise argued in a recently shared threat on Twitter.
"Approval would make it vastly easier for investment professionals to gain exposure to bitcoin," Bitwise argued, noting that "ETFs are among the most popular and efficient vehicles to access key markets or investment themes".
Secondly, Bitwise notes that ETFs hold structural advantages that offer better price efficiencies over other products.
They are likely referring to the existing suite of Bitcoin futures ETFs that already trade in the US.
These ETFs have an imperfect relationship to the Bitcoin price as a result of roll-over costs, an inefficiency that a spot ETF would solve.
Finally, Bitwise states that "a spot bitcoin ETF would likely be seen by many as a regulatory stamp of approval".
"It would communicate that the market has matured and is now ready for institutional investors to enter with confidence".
Can Spot ETF Optimism Save Bitcoin (BTC) From Further Downside?
Optimism that spot Bitcoin ETF approvals are close has been a major theme in the market in the past two months.
Major Wall Street heavyweights like BlackRock, Fidelity and Vanguard all filed for ETFs in mid-June, helping to propel the Bitcoin price higher from around $25,000 to fresh yearly highs near $32,000.
However, following the onset of buyer exhaustion in the low $30,000s and amid increased profit-taking, Bitcoin failed to mount a sustained push into the $30,000s.
Macro headwinds, with long-dated US yields rising to fresh multi-decade highs on bets that US interest rates will remain higher for longer in the coming years thanks to the US economy's continued outperformance, have since weighed heavily on the Bitcoin price.
Bearish technical developments have made matters even worse.
Last week's break of the 2023 uptrend and 200DMA were the trigger for a price drop of more than 10.5% in one week, BTC's worst week of the year.
Technicians think a retest of the sub-$25,000 June lows is highly likely.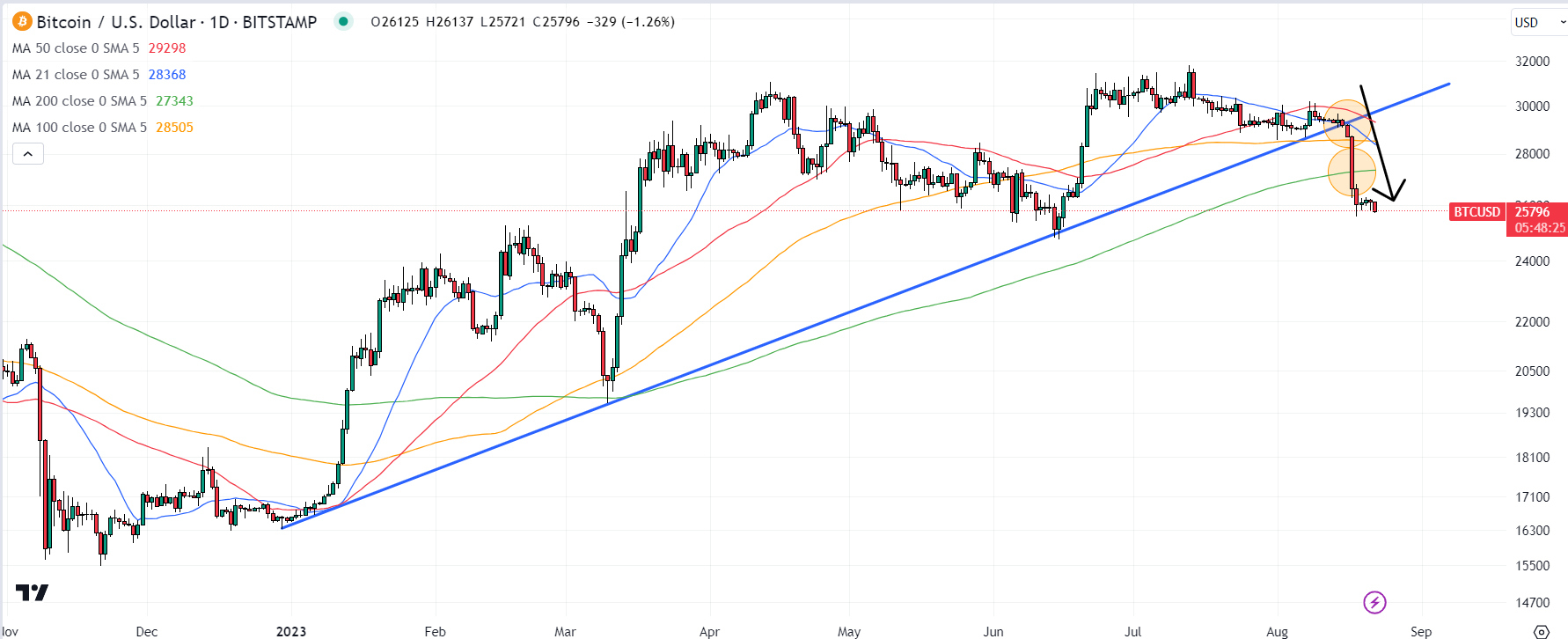 With spot Bitcoin ETF approvals unlikely until late this year/early 2024, this theme is unlikely to provide fresh bullish impetus in the near term, meaning the BTC price remains at risk of further declines.
But dip buyers will likely be waiting on the sidelines to scoop up BTC as it falls further towards $20,000.
With spot ETF approvals, the Bitcoin halving and potentially also the start of a Fed cutting cycling all likely coming up in 2024, many are predicting the world's largest cryptocurrency to hit fresh all-time highs next year.
While the near-term outlook is fragile, the longer-term outlook remains compelling.