The cryptocurrency community is expecting the price of the meme-inspired cryptocurrency Dogecoin ($DOGE) to move up slightly by end of this month, as the average of nearly 1,000 estimations points to a rise of around 3%.
According to CoinMarketCap's price estimates feature, by the end of April, the cryptocurrency community expects to see the meme-inspired cryptocurrency trade at around $0.0873 per token, up from its current level of $0.0848, equivalent to a rise of around 3%.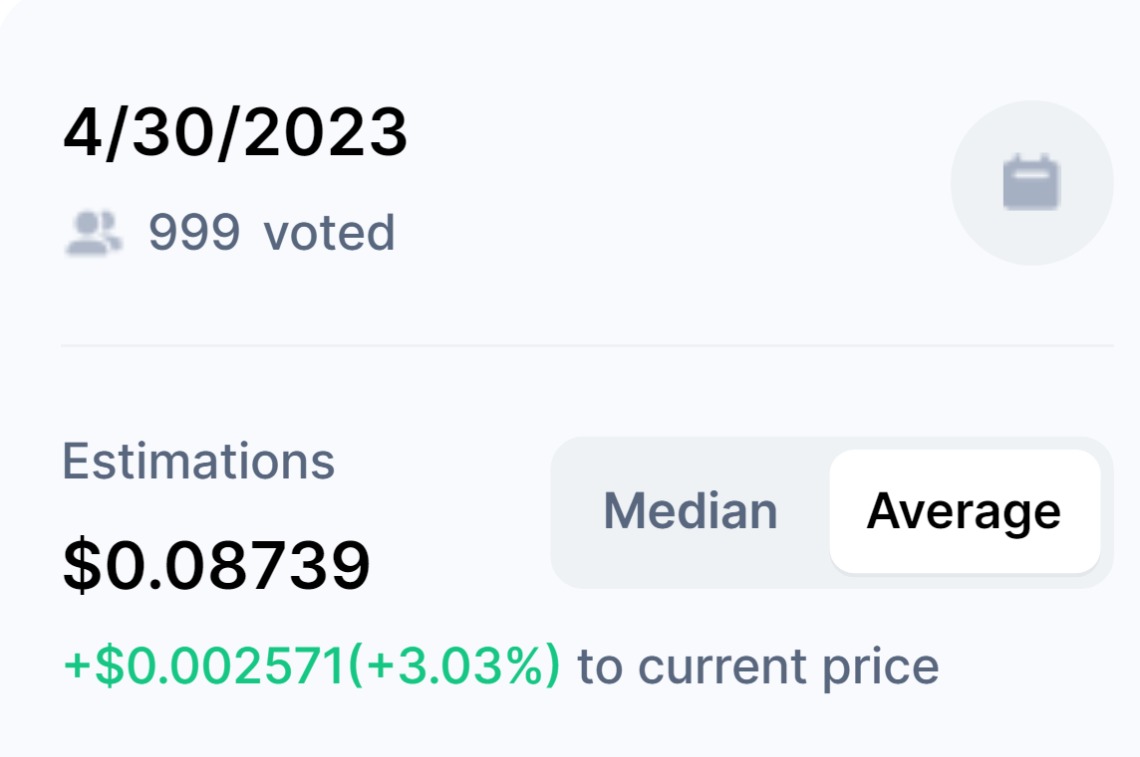 It's important to point out that the cryptocurrency community's predictions may not come to life at all. According to the platform, the community's historical accuracy is of little over 79%, with recent data showing it was at around 91% in February, but dropped to around 89% in March 2023. It was at 51% in October of last year.
The Dogecoin community celebrated Twitter CEO Elon Musk changing the microblogging platforms logo to that of DOGE briefly earlier this month, but was soon stunned after Musk suddenly removed the logo.
Musk replaced Twitter's traditional bird logo with the widely recognized Dogecoin symbol on the Twitter homepage in a platform-wide change, showing DOGE to over 360 million monthly active users on the microblogging platform.
Musk has now decided to put Twitter's bird logo back in the top left corner of the Twitter home page, thereby landing a crushing blow to the hopes of many DOGE fans that Twitter was going to somehow integrate Dogecoin into Twitter in the near future, and this has had an immediate negative impact on the DOGE price.
As reported, a popular cryptocurrency analyst has reaffirmed that they believe the price of the meme-inspired digital currency is set to surge in the near future, eyeing a 180% rise that could be sparked by the "meme holiday" of April 20 (4/20).4/20 is a meme holiday because it is a day when pot smokers across the world celebrate the marijuana culture in their own special way. The date 4/20 is derived from the code 420, which was used by a group of high school students in California in the 1970s to signal their meeting time for smoking weed.
Countless memes poke fun at the effects of marijuana, the stereotypes of cannabis users, the legal status of the drug, and the reactions of celebrities and politicians. To pseudonymous cryptocurrency strategist Kaleo, these memes will also help DOGE pump, as he expects Twitter, Tesla and Space X CEO Elon Musk to tweet about the cryptocurrency.
As CryptoGlobe reported, tens of billions of DOGE tokens are now being held by long-term investors, as entities that have been HODLing onto the cryptocurrency for over a year now have 44.8 billion tokens, worth over $4.5 billion.
Image source
Featured image via Unsplash.